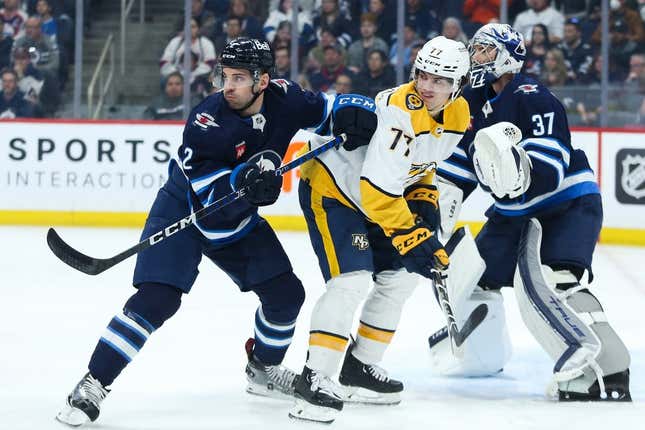 Connor Hellebuyck stopped 28 shots as the Winnipeg Jets shut out the visiting Nashville Predators, 2-0
Does Jimmy Butler have the best NBA Finals origin story? | Agree to Disagree
The win put the Jets ahead of the Predators in the wild card race by three points, as the Jets held onto the final playoff spot in the Western Conference with only three games remaining for both clubs
Mark Scheifele and Neal Pionk were the goal scorers for the Jets
Nashville's goaltender Juuse Saros made 36 saves in the loss.
The first 20 minutes was scoreless, while Nashville (40-31-8, 88 points) held the slight edge on the shot clock, 8-7.
The closest either team came to putting the puck into the net in the opening period was Scheifele hitting the post on the power play with 7:07 remaining in the first period on a shot-pass from Ehlers.
The game remained fairly even through the first half of the second, before Ehlers hit another post after wiring the puck from the top of the circle 9:04 into the period.
That chance didn't go in, but it sure sparked the Jets (44-32-3, 91 points)
All that energy added up to Scheifele getting the Jets on the board first with his 40th of the season. His goal came with 4:54 left in the middle frame, when his shot from the slot was almost saved by Saros, but fluttered past the goal line
Ehlers would hit another post before the period was out, and a no-goal call on the ice against the Jets would be confirmed by video review, affirming the whistle blew before the puck was poked into the cage
Neal Pionk got the Jets ahead 2-0 with a huge goal 1:36 into the third period. Ehlers found the puck along the boards and put it cross ice to Pionk, who came straight down the middle and wristed the shot into the net
--Field Level Media