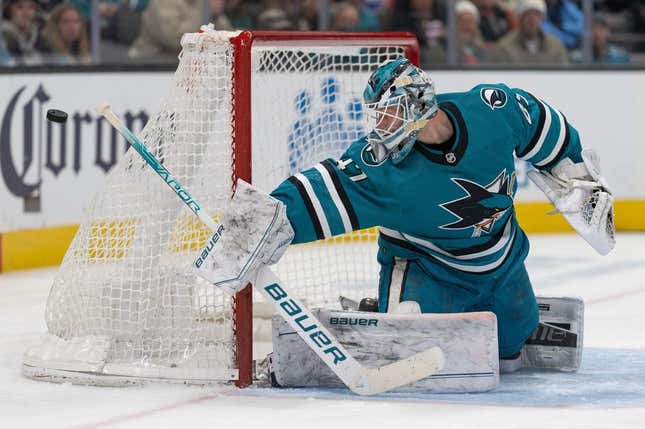 Few teams have struggled against the San Jose Sharks this season
The Sharks sit in 29th place in the NHL and have only three games remaining in an extremely disappointing season
Bass' ERA stinks, but not compared to who he is off the mound | Worst of the Week Countdown
However, San Jose will look to build some positive momentum for next season on Monday night when it visits the host Winnipeg Jets, who happen to be one of the few teams the Sharks have had some success against
Winnipeg (44-32-3, 91 points) lost twice to the Sharks (22-41-16, 60 points) last month, falling 3-2 in overtime on March 6 before being on the wrong end of a 3-0 shutout three weeks later
The Jets also have three games left, but unlike San Jose, they are brimming with hope
On the table for Winnipeg are six critical points as they try to book their spot in the Stanley Cup playoffs.
Winnipeg is holding onto the final wild-card spot in the Western Conference with a game in hand and a single point up on the Calgary Flames (37-27-16, 90 points). The Jets are also three points ahead of Nashville (40-31-8, 88 points)
Winnipeg helped separate itself from the Predators by downing Nashville 2-0 on Saturday.
"The players know when they're on their game and what we look like and how we were dominant," Jets coach Rick Bowness said regarding his team's hunger to make the playoffs. "Just keep doing what you're doing, don't get frustrated, stay in the fight, stay shift to shift. Stay in the moment.
Monday marks the final home game of the season for the Jets, who will then visit the Minnesota Wild and Colorado Avalanche in their final two games
"We know what we need to do here the last three games," Jets forward Nikolaj Ehlers said after Saturday's win. "We will be ready for those.
The Sharks are embarking on a season-ending road trip. After visiting Winnipeg, they will play a back-to-back in Calgary and Edmonton starting on Wednesday
"Obviously this year wasn't good. Especially ... at home, we've lost a lot of hockey games in a lot of different ways," Sharks captain Logan Couture said. "I'm sure once the season ends everything will be digested. I know the front office has a plan that they're sticking to ... so we'll go from there.
The Sharks have only won eight home games all season. That poor record on home ice could cause change to come to San Jose
"Every guy should understand that," Sharks coach David Quinn said. "We've got a laundry list of guys that are fighting for their careers. Everyone is evaluating you, not just us. ... You need to make a decision, you need to make a choice. If you want to be an (NHL player), you've got to play better than that.
One of the few bright spots for the Sharks has been defenseman Erik Karlsson. He has 98 points and is looking to become just the sixth defenseman in NHL history to have at least 100 points in a single season
--Field Level Media