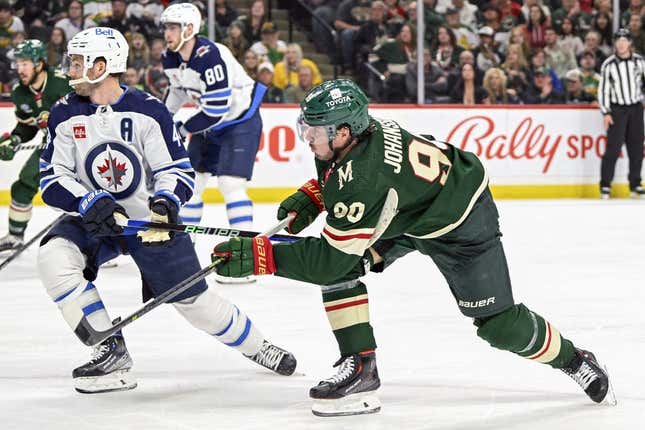 Connor Hellebuyck made 33 saves and the Winnipeg Jets clinched a spot in the Western Conference playoffs by beating the Minnesota Wild 3-1 in a rough-and-tumble affair on Tuesday in Saint Paul, Minn
Bass' ERA stinks, but not compared to who he is off the mound | Worst of the Week Countdown
Adam Lowry, Mark Scheifele and Mason Appleton were the goal-scorers for the Jets (46-32-3, 95 points), who entered the night needing just a single point to seal their spot as the West's second and final wild-card team
Kirill Kaprizov scored the lone goal for Minnesota (46-25-10, 102 points), and Marc-Andre Fleury stopped 17 shots.
Minnesota already had clinched a playoff spot. The Wild remain two points behind both the Avalanche and the Stars in the Central Division, with Colorado having played 79 games, Dallas 80 games and Minnesota 81 games
The Jets on the board early in the first period. At 3:53, Lowry scored after reeling in a blocked shot
Winnipeg made it 2-0 at 13:10 of the first. A shot on net from the faceoff dot bounced around and found Scheifele, who shoveled it into the net.
The pace remained high, as both teams did a good job managing the puck, but neither could solve the opposing netminder as the scoreboard did not change by the end of the second frame.
The Wild came out flying in the third period and kept pushing. Finally, 1:59 into the frame, Minnesota got on the board on a power play when Kaprizov netted his 40th goal of the season, making the game 2-1
Winnipeg got back its two-goal lead with 5:54 left in the final stanza. Appleton cleaned up a loose puck in front of the net, beating Fleury from the slot.
The final few minutes of the game ended in some rough stuff, with 29 minutes of penalties handed out in the final 8 1/2 minutes of action.
The Wild conclude their season Thursday at Nashville, the same night Winnipeg finishes at Colorado
--Field Level Media