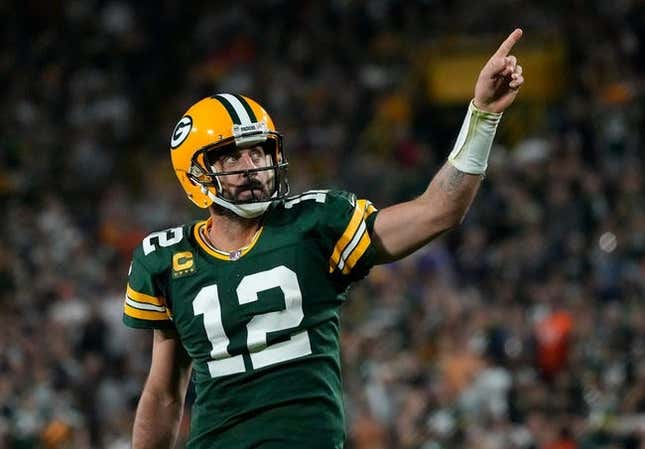 New York Jets general manager Joe Douglas labeled the team's acquisition of star quarterback Aaron Rodgers as a "historic trade for the franchise.
Does Jimmy Butler have the best NBA Finals origin story? | Agree to Disagree
Douglas also said Tuesday that he felt "honored" that the four-time NFL MVP wanted to play for the Jets
"Obviously, Aaron's one of the best quarterbacks to ever play this game," Douglas said. "To have an opportunity to add a player of that caliber, you're always going to look into it and how it fits within our culture, within our team.
"Obviously, it goes back something I said to you guys in Phoenix (at the NFL owners' meetings), it's a real credit to Robert (Saleh) and his staff and what he's been able to implement with our players and with everybody here that a player of Aaron's caliber would even want to come here. We're all excited to add someone of his character and his ability."
Douglas' comments came one day after the Packers agreed to trade Rodgers to the Jets in a deal that saw the teams swap first-round picks, allowing Green Bay to move up two spots to No. 13. The Packers also are receiving one of New York's two second-round picks, No. 42 overall; a 2023 sixth-round selection; and a conditional 2024 second-round pick that will become a first as long as Rodgers plays 65 percent of the Jets' offensive snaps next season
In addition to receiving the 15th overall pick from Green Bay, the Jets picked up a fifth-round selection
"We're comfortable with how this deal is shaped," Douglas said. "In any negotiation, I don't think anyone walks away where you feel you won everything. But ultimately our goal from the beginning was to add Aaron to the team. We were able to agree to terms on that (Monday) and excited to get him in here."
Rodgers is expected to solve the Jets' long-running quarterback woes and help the team make a run at the playoffs. New York had high hopes that its selection of Zach Wilson with the second overall pick of the 2021 NFL Draft would go a long way toward solving that problem, but that has yet to be the case
Douglas, however, said Tuesday that the addition of Rodgers could be a positive for Wilson.
"I feel like this is going to be a great thing for Zach," Douglas said. "And I spoke to you guys at the combine and Zach's ceiling is unlimited.
"No one works harder, no one loves ball more than Zach Wilson. And him having the opportunity to really shadow and be with a first-ballot, Hall of Fame quarterback every day, every hour he's in the building, that's a great opportunity and a great experience."
Wilson, 23, has completed just 55.2 percent of his passes for 4,022 yards with 15 touchdowns and 18 interceptions in 22 career games (all starts).
Rodgers, 39, has thrown for 59,055 yards, 475 touchdowns and 105 interceptions in his 18-year career with the Packers, who drafted him 24th overall in 2005 as an eventual successor to Hall of Famer Brett Favre.
Rodgers' long run with Green Bay, which included the Super Bowl XLV title in 2010, ended with two-plus tumultuous years between the franchise and star player.
Rodgers was named NFL MVP in 2011, 2014, 2020 and 2021, but he endured one of the worst seasons of his career in 2022. He completed 64.6 percent of his passes for 3,695 yards and 26 touchdowns while tossing 12 interceptions.
--Field Level Media