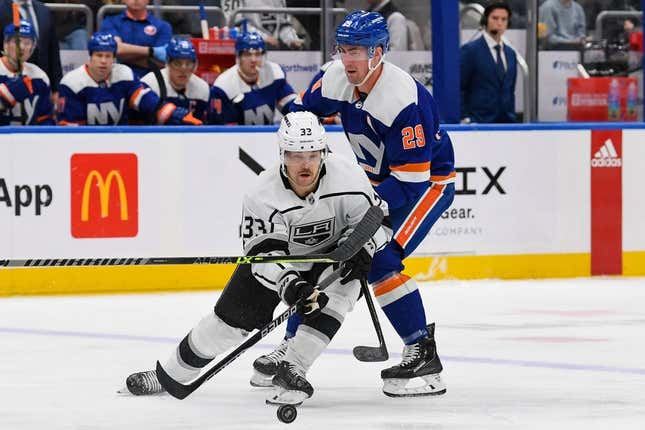 Neither the Los Angeles Kings nor the Winnipeg Jets are currently playing up to the caliber of teams in playoff position.
Looking to end an already rough road trip on a positive note, the Kings will try to hand the offensively-stunted Jets a season-high fourth straight defeat on Tuesday night.
While both teams are currently among the top eight teams in the Western Conference -- and actually remain in good position to win their respective divisions -- their recent play has left something to be desired.
Los Angeles won four straight out of the All-Star break, all at home, then took off for a five-game road swing, where the Kings have totaled nine goals while going 1-2-1 entering this final stop.
The Kings trailed 3-0 to the New York Rangers on Sunday before Viktor Arvidsson and Matt Roy scored on the way to a 5-2 defeat. It was an effort that did not sit well with Los Angeles coach Todd McLellan.
"I thought we were five or six players shy of having an opportunity to win," McLellan said.
"I thought we had some players that were ready to play, but it just goes to show, when you're playing the cream of the crop in the league, you can't have anywhere from six to seven guys have really off nights."
Meanwhile, Winnipeg has totaled just 22 goals during its current 4-8-0 stretch. Losers in five of the last six, the Jets have been outscored 11-2 during their current three-game losing streak. They were blanked for just the third time this season, 4-0, to the New York Islanders at home on Sunday.
"We can't be a fragile team right now," defenseman Josh Morrissey told the Jets' official website. "I'm not saying that we are, but we certainly can't fall into that mode.
"We're an aggressive team. We have to be able to make plays, make passes and not just panic because we're going through a little bit of a rut."
Winnipeg's Mark Scheifele has 34 goals but failed to record any of his 52 points in the past three games. Meanwhile, teammate Blake Wheeler has just one point in his last five contests. However, each had a goal, and Morrissey recorded two assists, during the Jets' 6-4 victory at Los Angeles on Oct. 27.
The Jets' Connor Hellebuyck (2.46 goals-against average) made 40 saves in that contest but was roughed up during a 5-1 home loss to Colorado in his most recent start on Friday. Backup David Rittich made 20 saves Sunday against the Islanders and has allowed at least three goals in four of his six home starts this season.
The Jets could get a boost with the addition of veteran Nino Niederreiter, sitting on 199 career goals, after he was acquired from Nashville on Saturday. He will reportedly debut with his new team Tuesday against the Kings.
Los Angeles veteran Jonathan Quick, who stopped 13-of-18 shots versus Winnipeg in October, was pulled after allowing three goals on seven shots over 23 minutes Sunday against the Rangers. He's posted a 4.09 goals-against average while losing four of his last six starts. Meanwhile, teammate Pheonix Copley has yielded eight goals while facing 66 shots in his last three games.
The Kings' Kevin Fiala has a team-leading 63 points but only two in the last four games. They may need to look for more offense from Arvidsson, who has five goals with two assists in his last seven.
--Field Level Media