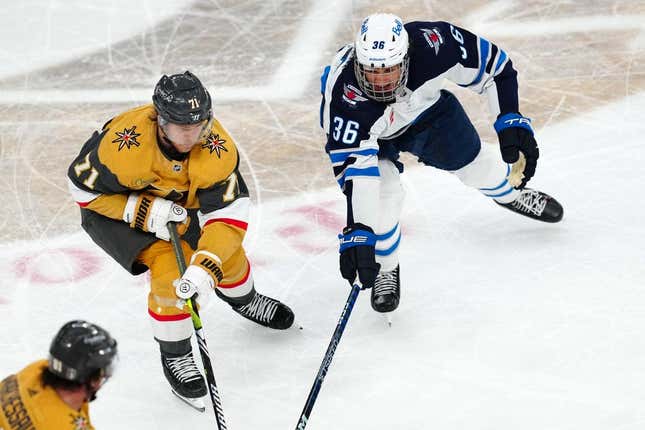 A frightening scene unfolded in Las Vegas on Tuesday night, as Winnipeg Jets forward Morgan Barron took a skate to his face during a scrum in front of the net and immediately skated off the ice
But with this being the NHL playoffs, Barron was back on the ice less than a full period later -- after getting a reported 75-plus stitches in the locker room.
With players falling down as Golden Knights goaltender Laurent Brossoit scrambled to keep a rebound out of the net nine minutes into the game, Chandler Stephenson pushed Barron into Brossoit's skate, which caught Barron on the ride side of his face, near his eye.
But midway through the second period, Barron returned to the game with a large bandage covering the wound -- though the blood and part of the cut was still visible.
Jets coach Rick Bowness said of Barron returning to action, "He was looking at me. 'I'm ready.' I said, 'Do you need a little skate or something?' And he goes, 'Nope, I'm ready to go.' And of course he went right out and he banged into someone
"That's Winnipeg Jets hockey, that we're all in. Morgan is a perfect example of that. Give him a lot of credit. That takes a lot of courage, to get 55 stitches, whatever the heck it was, and that was a pretty serious cut.
Barron said that he was able to come back because the skate blade "missed anything important."
Barron wound up playing nearly 11 minutes and recording three shots in the Jets' 5-1 upset in the opening game of their first-round series against the No. 1 seed in the Western Conference
Barron, 24, played 70 games in his first full season with the Jets. He had eight goals and 13 assists -- both career highs. Tuesday was his first career playoff game
--Field Level Media