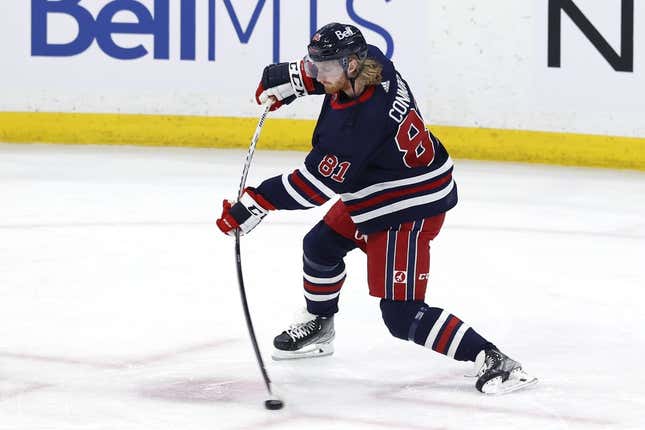 The Winnipeg Jets believe they are too talented to stumble to nine losses in their past 11 games.
Is Texas or Florida State a bigger national title contender? | Agree to Disagree
Winnipeg, which has been idle since a 4-2 loss to the Minnesota Wild on Wednesday, is set to start a three-game road trip on Saturday night against the Florida Panthers.
The Jets, despite the mounting losses, still are in wild-card playoff position. Against Minnesota, they forced Wild goalie Marc-Andre Fleury into 46 saves.
Jets coach Rick Bowness said it was one of the best games Winnipeg has played all season.
"We dominated the game -- 82 shot attempts," Bowness said.
Jets forward Kyle Connor said his squad has a lot of fight.
"There's no quit here -- not a single guy," Connor said. "We know we have a great team here."
There's no quit in the Panthers, either.
Florida was held scoreless for 48-plus minutes on Friday, trailing 2-0 to the visiting Chicago Blackhawks.
But the Panthers rallied to win, 4-3, in overtime. Matthew Tkachuk, who leads Florida with 84 points, had three straight primary assists.
Panthers defenseman Brandon Montour had the overtime goal. It was his 12th score of the season, beating his previous career high of 11.
Of Tkachuk, Montour said Florida's star makes "sneaky" plays.
"He's not going to be a player who goes end to end on highlight-reel plays," Montour said. "But he makes plays on the wall. He makes sneaky plays down low and in tight. He's a heck of a player."
Panthers coach Paul Maurice said he felt his players were tight against Chicago, not wanting to lose to the team with one of the worst records in the Western Conference.
"Our players wanted to win so bad that they couldn't play the game," Maurice said. "We will be a much faster team (against Winnipeg)."
The Jets should provide a challenge due to stars such as goalie Connor Hellebuyck and center Mark Scheifele.
Hellebuyck, who has 27 season wins, played in his third All-Star Game this season and also has the 2020 Vezina Trophy to his list of credits.
Scheifele, the first-ever Winnipeg draft pick following the franchise's move from Atlanta, is in the middle of his eighth straight season with more than 20 goals. In fact, he has a team-high 36 goals, which is two short of his career high.
Saturday's game will be a rematch of Dec. 6, when Maurice returned to Winnipeg for the first time as the Panthers coach. The Jets won that emotional contest, 5-2, beating Maurice, who coached the Jets for parts of nine seasons.
Winnipeg fans stood and cheered when Maurice was recognized on the big screen.
"That was classy," Maurice said.
Scheifele said he enjoyed the win over his former coach, saying: "I'm not going to lie. That was a good one in my book."
But Scheifele also said his team has moved on, and Saturday should be less emotional and more about winning.
It will be interesting to track the defensemen on Saturday. Winnipeg has 39 goals by its defense, which ranks second in the NHL.
Florida is pretty good with its defensemen, too, with players such as Montour, Aaron Ekblad (10 goals) and Gustav Forsling (eight).
"It's nice to contribute offensively," Montour said. "I like to create plays. But it's more important we get points. We're a desperate hockey team."
--Field Level Media