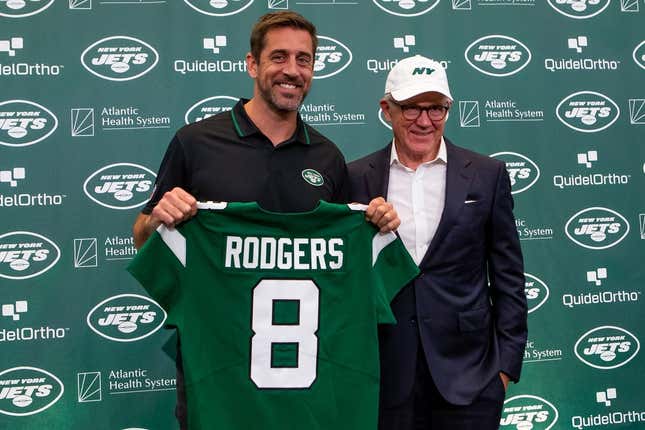 Aaron Rodgers was all smiles as he held up his No. 8 jersey with the New York Jets on Wednesday
Does Jimmy Butler have the best NBA Finals origin story? | Agree to Disagree
A new number with his new team represents a clear turning of the page for Rodgers, who addressed the New York media at his introductory press conference.
"I'm not here to be a savior of any kind," said the four-time NFL MVP, who joined head coach Robert Saleh and general manager Joe Douglas on stage.
It all starts with the jersey number for Rodgers, who elected against wearing his traditional No. 12 in New York even with the blessing of Hall of Famer Joe Namath.
"There have been some iconic names to have played here, probably none more iconic than No. 12," Rodgers said. "I heard what he said about unretiring his number, but to me (No.) 12 is Broadway Joe. I didn't even want to go down that path and I'm excited about going back to my college number."
Namath led the Jets to their lone Super Bowl appearance in 1969
"That Super Bowl III trophy is looking a little lonely," Rodgers said.
Rodgers, 39, however, would not commit to playing beyond this upcoming season.
"Right now, I'm just going to focus on this season," Rodgers said. "I'm excited to be here."
The Jets paid a significant price to wrest Rodgers from the Green Bay Packers
The teams swapped first-round picks, allowing Green Bay to move up two spots to No. 13. The Packers also are receiving one of New York's two second-round picks, No. 42 overall; a 2023 sixth-round selection; and a conditional 2024 second-round pick that will become a first as long as Rodgers plays 65 percent of the Jets' offensive snaps next season
In addition to receiving the 15th overall pick from Green Bay, the Jets picked up a fifth-round selection
Rodgers has thrown for 59,055 yards, 475 touchdowns and 105 interceptions in his 18-year career with the Packers, who drafted him 24th overall in 2005 as an eventual successor to Hall of Famer Brett Favre.
Speaking of Favre, the Hall of Fame quarterback sent the following text message to ESPN in regard to Rodgers:
"Aaron will do great!!!! He will handle the transition as well as anyone. (He's a) very smart and instinctive person, on and off the field. In other words, you're not going to catch him by surprise very often.
"And I think (he's) the best at making everyone around him better. I would rather not bet at all than bet against him."
Rodgers' long run with Green Bay, which included the Super Bowl XLV title in 2010, ended with two-plus tumultuous years between the franchise and star player.
Rodgers was named NFL MVP in 2011, 2014, 2020 and 2021, but he endured one of the worst seasons of his career in 2022. He completed 64.6 percent of his passes for 3,695 yards and 26 touchdowns while tossing 12 interceptions.
--Field Level Media