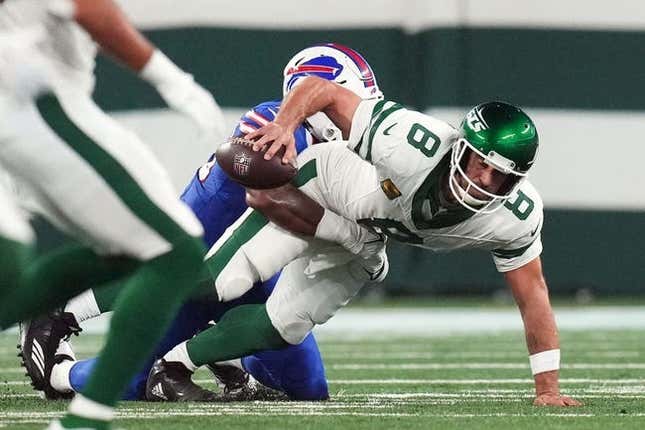 New York Jets quarterback Aaron Rodgers isn't closing the book on playing again in the NFL — and he's not just talking about next season.
How running an NFL team is like running a restaurant | Chef Emeril Lagasse
Speaking publicly for the first time since tearing his Achilles tendon on Monday night, Rodgers said Friday on ESPN's "The Pat McAfee Show" that his career is not over.
"I think what I'd like to say is give me the doubts," Rodgers said. "Give me the timetables, give me all the things that you think can, should or will happen because all I need is that extra one percent of inspiration. That's all I need. Give me your doubts, give me your prognostications and then watch what I do."
When asked if he could return as soon as this season, Rodgers channeled a Basketball Hall of Famer with a tongue-in-cheek response. "I think as Kevin Garnett said, 'Anything is possible.'"
Rodgers was injured four offensive snaps into the Jets' season-opening 22-16 overtime victory over the Buffalo Bills. He noted during an Instagram post that he had surgery on Wednesday.
The four-time MVP turns 40 in December but is signed for 2024. He indicated prior to the injury that he intends to spend multiple seasons with the Jets and said Wednesday that he is looking to make a comeback.
—Field Level Media