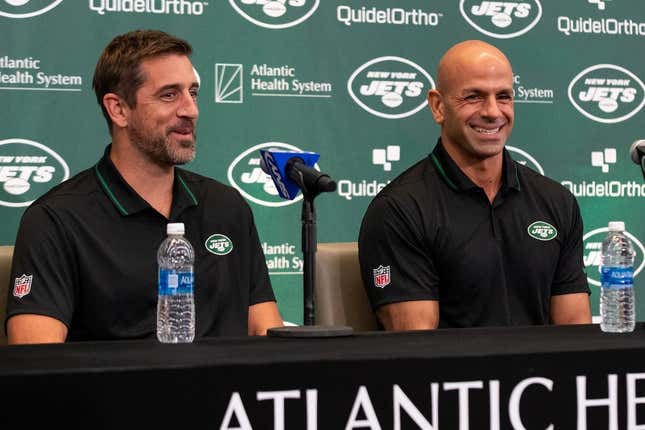 Calling it a "silly" and "tired" narrative, New York Jets coach Robert Saleh is trying to discourage talk of the franchise trying to fulfill a "wish list" of new quarterback Aaron Rodgers by signing some of his former teammates
Air Jordans are more American than McDonald's French fries | Deon Cole's Ultimate Sports Fantasy
Speaking as the Jets began rookie minicamp on Friday in Florham Park, N.J., Saleh called it "very common for new faces to want old faces to come in and help accelerate the installation of an entire program. Everything is pinned on the quarterback. It's not just him.
As the Jets worked to acquire Rodgers, a four-time NFL Most Valuable Player who led the Packers to a Super Bowl victory in 2011, they have also picked up four players from his past, all on offense. The list includes receivers Allen Lazard and Randall Cobb, tackle Billy Turner and quarterback Tim Boyle
Talk of Rodgers having a preferred list of teammates began with a report two months ago when he acknowledged discussing his favorite players with Jets executives
That doesn't mean these player additions are just for Rodgers, however, according to Saleh, who specifically mentioned offensive coordinator Nathaniel Hackett.
"Hackett has something to say about it. He loves Lazard. He loves Randall. He took Billy Turner with him to Denver, and he wanted him here. Of course, you're going to surround a coach with people who he feels like will plant the flag," Saleh said.
"That whole narrative -- what people are trying to put on the quarterback -- it's tired. It's common practice in the NFL."
New York started 6-3 last season before going 1-7 the rest of the way to finish 7-10 and last in the AFC East.
--Field Level Media