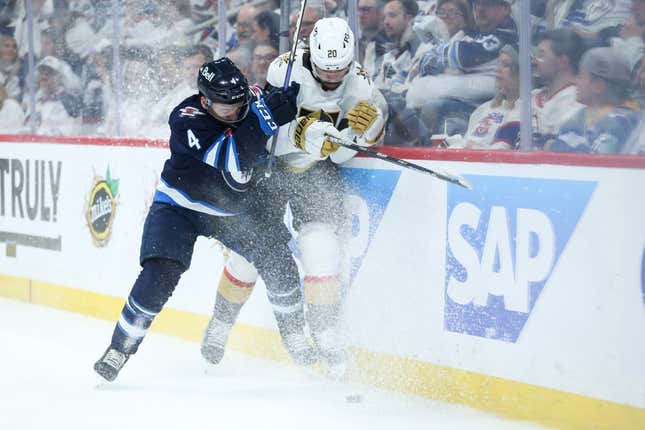 With Winnipeg trailing the Vegas Golden Knights 3-1 heading into Game 5 on Thursday in Las Vegas, Jets goalie Connor Hellebuyck says his team has one simple goal
Does Jimmy Butler have the best NBA Finals origin story? | Agree to Disagree
Get back home to play a Game 6.
"At this point, you just play it one game at a time," the 2020 Vezina Trophy winner said. "We don't need three (wins), we need one, and we'll go from there."
Winnipeg defeated the top-seeded Golden Knights 5-1 in Game 1 of the best-of-seven Western Conference first-round series in Las Vegas on April 18 but has dropped three in a row since by a combined score of 14-8. One of those games went to double overtime, Game 3 in Winnipeg, when Michael Amadio's first career playoff goal gave Vegas a 5-4 victory
After losing again at home on Monday, 4-2, the Jets have no more margin for error
"I think we have a character in our room to do something special and to do something great," Hellebuyck said. "We need one game and then we'll move onto the next one and prepare the same way. We're going into Vegas and we're looking for one. That's it."
Winnipeg coach Rick Bowness believes his team has the right frame of mind heading into the contest.
"We have no choice," Bowness said. "We have to be confident and we will be. We'll be a very confident group going into that game. And we're going to have a swagger to us (that) if we go out it's going to be one tough fight for you guys tonight. And if we play with that attitude, then I like our chances.
"We can't go into that game hoping to win and sit back and hope things go our way. That's not how we play. If we're going to go out, we're going to be one tough out. We're going out into the game Thursday night to play very aggressive like we can."
Bowness said that center Mark Scheifele, who led the team with 42 goals during the regular season and left Monday's loss in the first period with an upper-body injury, is day-to-day but will miss Thursday's game.
However, forward Nikolaj Ehlers, out since April 11 after sustaining an upper-body injury, will be a game-time decision. Ehlers, who played in just 45 games this season due to multiple injuries, had 12 goals and 26 assists.
Vegas coach Bruce Cassidy said his team must guard against complacency heading into the Thursday contest.
"The message for us is we haven't won anything yet," Cassidy said. "You need to win four, right?
"The fourth one is usually the toughest (to win) and we'll see. The team has to be ready to play. (The Jets) came in here in Game 1 and outplayed us, so they know they can do it in our building.
Vegas center William Karlsson added, "The work is not done yet. They're a good team and they're not going to lay down and die. They're doing to give us everything they've got ... and we're going to have to match that."
The Golden Knights could get back forward William Carrier, out since sustaining a lower-body injury on March 3, for Game 5. Carrier had 16 goals and nine assists in 56 games this season
"He's progressing well," Cassidy said after practice Wednesday. "We'll find out if there's any setbacks (on Thursday). If he feels good, there's an opportunity that he might play."
--Field Level Media