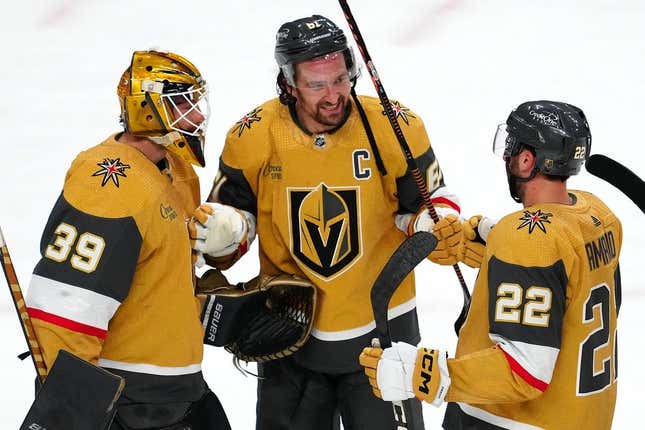 The Winnipeg Jets, who worked a split of their first two games with the top-seeded Vegas Golden Knights, now return to Canada for the next two games of their Western Conference first-round series having stolen home-ice advantage
Bass' ERA stinks, but not compared to who he is off the mound | Worst of the Week Countdown
Game 3 between the Jets and Golden Knights is set for Saturday afternoon at Winnipeg
The Jets shocked Vegas 5-1 in the series opener on Tuesday and were in position to sweep the first two games entering the third period of Thursday's Game 2 tied 2-2. But the Golden Knights took a 3-2 lead on Chandler Stephenson's goal at the 5:37 mark, and Winnipeg native Mark Stone scored twice to propel Vegas to a 5-2 victory
The Jets, who were the last team to qualify for the Western Conference playoffs as the second wild card, have turned the best-of-seven series into a best-of-five with three of the final five games at Winnipeg, where the Jets went 26-13-2 during the regular season
"It's two really good hockey teams," said Jets center Adam Lowry, who scored three goals in the first two games. "We knew this was going to be a tight series. We felt confident going into it and I don't think anyone was expecting a sweep. So, you just regroup for Game 3, watch some video, just tighten things up and we'll be in a good spot.
Winnipeg led Game 2 1-0 after the first period on Lowry's power-play goal and outshot Vegas 17-8 in the first 20 minutes. The Jets had a chance to take control, but Golden Knights goalie Laurent Brossoit, a backup for the Jets from 2018-2020, turned away several prime chances, including a partial breakaway by Kyle Connor. He had 31 saves in his first career playoff victory
"Obviously, we let that one slip away a little bit," Jets center Mark Scheifele said
"They were the better team tonight," Winnipeg coach Rick Bowness said. "They deserved to win that game, there's no question. Did we make it too easy on them? Yeah, we did. The most disappointing thing was the execution. Giving up the goals we gave up. The way we gave them up, that's disappointing. We'll fix it and get ready for Saturday."
Stone and Jack Eichel were both minus-3 in the Golden Knights' opener but bounced back Thursday. Stone was plus-2 and Eichel was plus-1 while scoring his first career playoff goal
Stone's first goal, a tip-in of Stephenson's pass to the far-right post, was his first since Jan. 5 and made it 4-2 with 6:59 remaining. He missed the final 39 games of the regular-season after his second back surgery in nine months and celebrated by leaping into the glass and getting mobbed by his teammates.
Stone sealed the win when he ripped a wrist shot from the high slot that deflected off the stick of defenseman Nate Schmidt into the top left corner of the net with 2:30 remaining.
"Just to be back in there means the world to me," Stone said. "It's the playoffs, you got to take it one game at a time, but I don't want to miss this. I want to be part of it."
"Just to think about all the adversity he's gone through and everything that he's worked and battled through to get back here and be on the ice with us, can't say enough about him," Eichel said. "I'm so happy to so him get rewarded there. He's our captain for a reason. He brings it every night."
--Field Level Media