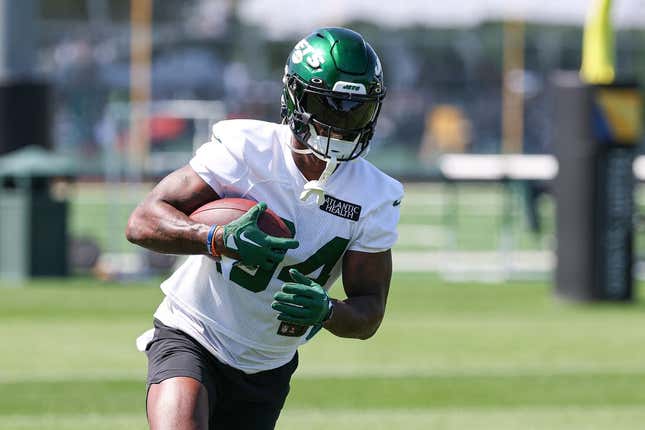 New York Jets wide receiver Corey Davis, the No. 5 overall pick by the Tennessee Titans in the 2017 draft, announced Wednesday that he is "stepping away" from football after six seasons.
How running an NFL team is like running a restaurant | Chef Emeril Lagasse
Davis, 28, finishes his career with 273 catches for 3,879 yards and 17 touchdowns.
"For some time now I've been contemplating stepping away from the sport of football," Davis posted to Instagram. "This decision has not been easy. ... I've been searching my heart for what to do and I feel that stepping away from the game is the best path for me at this time. I have more blessings than I could have ever imagined — I have an amazing family, a beautiful wife and two healthy children that I look forward to spending more time with.
"I am truly grateful for all the opportunities I have had and will continue to have on my journey. Thank you to my family and friends and the Jets organization for supporting me through this process."
Davis had been away from the team with what Jets coach Robert Saleh characterized earlier in the day as personal leave.
"It was a pleasure to coach a player like Corey Davis," Saleh said in a team statement. "He is a true competitor on the field and was a tremendously positive influence in the locker room. We are grateful to Corey for all the hard work and dedication he put into this team, and we wish him all the best in the future."
Davis joined the Jets in free agency in March 2021, signing a three-year deal worth $37.5 million, including $27 million in guaranteed money.
He had 32 catches for 536 yards and two TDs in 13 games (10 starts) in 2022. He played in 78 career games (67 starts) for the Titans and Jets.
—Field Level Media