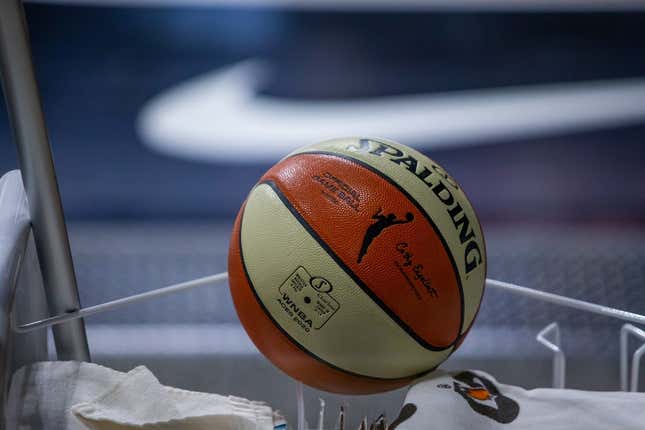 Jewell Loyd recorded 19 points and eight rebounds and converted the go-ahead three-point play with 13.8 seconds left as the Seattle Storm recovered from a 15-point fourth-quarter deficit to post a 68-67 victory over the visiting Atlanta Dream on Thursday night.
How running an NFL team is like running a restaurant | Chef Emeril Lagasse
Ezi Magbegor had 17 points and 11 rebounds as Seattle (8-21) halted a six-game home losing streak in stunning fashion. The Storm are 3-13 at home this season.
Rhyne Howard had 20 points and three steals and Allisha Gray had 17 points, seven rebounds and three steals for the Dream (15-14). Aari McDonald added 10 points for Atlanta, which has lost six of its last nine games.
Loyd was just 5 of 20 from the field but made the biggest shot to give Seattle a 66-64 lead.
Howard stepped on the sideline with 7.1 seconds left for the Dream, and Sami Whitcomb made two free throws with 5.5 seconds left to give the Storm a four-point edge. Howard made a late trey to account for the final score.
Whitcomb added 11 points for Seattle, which made 33.3 percent of its shots and was 4 of 14 from behind the arc. The Storm have won four of their past six games.
The Dream shot 31.5 percent, including 8 of 21 from 3-point range.
Atlanta led by 15 with 9:07 remaining before going scoreless for 7:03, and Seattle took advantage with a 16-0 surge to take the lead.
Magbegor scored six points early in the charge as the Storm moved within 62-54 with 5:53 to play. Loyd scored six of the next seven, including a four-point play that pulled Seattle within one with 3:03 remaining.
Magbegor's driving hoop gave the Storm a 63-62 edge with 2:19 left. It marked Seattle's first lead of the entire game.
Gray's shot jumper with 2:04 left ended the Atlanta drought and put the Dream back ahead. McDonald later missed two free throws with 19.2 seconds to play to set the stage for Loyd.
Atlanta led 60-47 after three quarters. Gray scored nine points in the period.
Gray's three-point play with 1:52 left in the quarter gave Atlanta a 16-point lead.
The Dream held a 34-27 advantage at halftime. Seattle missed its first 11 shots of the game and shot 27.3 percent (9-for-33) in the half. Atlanta shot 31.6 percent (12-for-38).
—Field Level Media