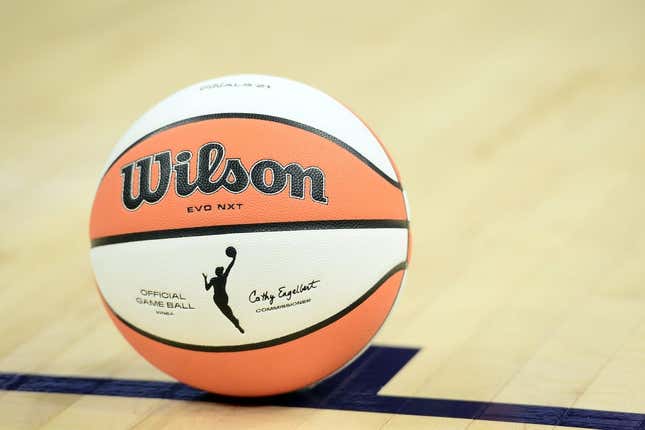 Jewell Loyd racked up 23 of her 24 points in the first half as the Seattle Storm withstood a charge from the visiting Phoenix Mercury to pick up an 81-71 victory on Sunday.
Is Texas or Florida State a bigger national title contender? | Agree to Disagree
Loyd made 9 of 21 shots from the field. Ezi Magbegor added 17 points and seven rebounds and Kia Nurse came off the bench for 10 points for Seattle.
Sophie Cunningham scored 25 points for the Mercury (9-21), who fell to 1-14 in road games and were thwarted in their bid for their first three-game winning streak of the season. Moriah Jefferson had 14 points and Brittney Griner supplied 12 points and 10 rebounds.
The Storm (9-21) have won back-to-back games for the second time this season, but a rally from a 16-point deficit wasn't needed in this game as it was three nights earlier against Atlanta.
On Sunday, the Mercury wiped out a 16-point hole to pull even at 57-57 with 2:13 left in the third quarter. The Storm responded by scoring the final six points of the period and kept momentum on their side by pouring in the first seven points of the fourth.
Phoenix had a four-game streak of scoring 90-plus points snapped as its firepower was lacking during stretches. The Mercury shot 40 percent from the field in the first half, going 2-for-13 from beyond the 3-point arc. The team's problems were heightened by attempting only two free throws in the half. For the game, the Mercury were 4-for-7 on foul shots.
The Storm used a 14-4 burst to end the first half to carry a 51-35 advantage into the break. Phoenix managed only 14 points in the second quarter.
Seattle shot 62.5 percent from the field in the first half, with Loyd going 9-for-12.
Cunningham had 13 points in the game's first 12 minutes, but Loyd had racked up 14 points by then.
Loyd's three-point play with 3:10 left in the first half pushed the Storm to a 42-31 lead.
—Field Level Media