The Pittsburgh Penguins have officially ended their 21-day general manager search, naming Jim Rutherford as the man in charge of fixing a team as talented as it is poorly constructed. The old boys' network strikes again.
Rutherford was seen as something of a dark horse in this GM search, which included the typical names you hear when a team goes looking for this type of executive these days: Pens interim general manager Jason Botterill, Tampa Bay assistant GM Julien BriseBois, Nashville AGM Paul Fenton, and so on. This after reportedly being told "thanks but no thanks" by Pat Brisson, the player agent for the likes of Sidney Crosby, Patrick Kane, Jonathan Toews, and John Tavares. Hell, the Penguins seemed so eager for a fresh take on things that they interviewed insufferable — but knowledgeable and well-connected — NBC Sports in-game analyst Pierre McGuire for the open position twice, and, depending on who you believe, may have even offered him the job.
These guys are younger, bright minds might be able to see things a little outside the box — a departure from the old guard who have been around the game longer than every player in the league has been alive. All they're lacking is the chance. Why not see what one of them can do?
But in the end, it was Rutherford they hired, because new and exciting is simply not done in the NHL, and because complications arose with other candidates. He was the Penguins' third choice for the job. Brisson, again, didn't even want to be bothered interviewing, probably because the salary pales in comparison to the money he's going to get from Toews's and Kane's contract extensions this summer. McGuire supposedly turned down the Penguins' offer of a three-year deal to run the team because he wanted five, and apparently beggars really can be choosers. So when thinking about approaching the sport in a different way didn't get the Penguins the splashy guys they wanted, they went with the "safe" choice instead, and left both Botterill and BriseBois jilted again, though at least gave their own man the title of "Associate GM". Rutherford admitted that he's only going to be there for two or three years, to be used in something of a babysitter role for a while while the younger guys get a little more experience (and here you can lump in Bill Guerin and Tom Fitzgerald, both of whom also had front-office roles with the Pens and are now assistant GMs), but it seems folly to let the last few peak-performance years of Crosby and Malkin's careers be run by a guy with such a long history of repeated and demonstrable failure.
Rutherford has been around the league for a long time, having been drafted by the Red Wings 39 days before Neil Armstrong walked on the moon. He has been with the Whalers/Hurricanes organization (or Compuware, its parent company) since 1983, running junior and youth hockey programs, before serving as general manager of the Windsor Spitfires, managing players like Adam Graves and Keith Gretzky. He's been GM of the NHL club since 1994, which is a long time to be tenured at that position in any sport, let alone hockey, in which most general managers get four or five years before finding themselves shuffled out. Over these last 20 seasons, his team finished out of the playoffs in all but five.
G/O Media may get a commission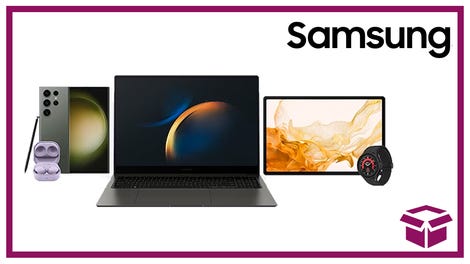 24 hour deals
Discover Samsung - Daily Deal
Rutherford wasn't a sexy pick, or even one that was much talked-about, and the reason for that is that he probably isn't a very good one, even in that two-or-three-years capacity. Rutherford has a reputation as being a very good hockey mind, and a proven winner, because he has in fact won. In two of his five playoff appearances (again, in 20 years), his team went to the Stanley Cup Final, winning the trophy once. In another, it went to the conference finals. You have to say this for him: His teams are often pretty bad. But when they're not, they're shockingly good, as long as you ignore that each of those deep postseason runs was followed by multiple years of not making the playoffs at all, and the Hurricanes' current streak is at five.
Penguins fans should be very familiar with Rutherford's work, and it shouldn't inspire confidence: He was the one who was often on the receiving end of a fleecing by outgoing GM Ray Shero. One of the Penguins' best depth contributors this year — faint praise, yes — was Jussi Jokinen, who put up 57 points in 81 games this season to go with a corsi close share of 56.2, second on the team. Jokinen came to Pittsburgh for "future considerations," and with nearly one-third of his $3 million cap hit retained by Rutherford's Hurricanes. This after Rutherford put Jokinen on waivers and (weirdly) found no biters.
Then there was the Jordan Staal trade, which sent the former Penguins' No. 3 center — who, to be fair, would have been a solid No. 2 on the vast majority of NHL teams — to Carolina in exchange for the eighth overall pick (Derrick Pouliot, who put up 70 points in 58 games in the WHL this season), Brandon Sutter, and prospect Brian Dumoulin, who that year had been the best defenseman in the NCAA. Rutherford promptly gave Staal $60 million for 10 years, a deal that's not looking so hot. For $6 million per season in cap space, the Hurricanes have gotten just 0.55 points per game over the last 126 from Staal, who has at least been a possession driver on a team that sorely needs it.
That is actually one of Rutherford's strengths, and plays well into what the Penguins are already doing. Unlike most of the old guard, Rutherford is not shy about using "analytics" to improve his team's chances — see also: The signing of pariah Alex Semin, who has been pretty good for Carolina the last two seasons, though at far too high a price — but obviously the results aren't there. The reason is that, like Shero, he top-loaded his roster with high-priced talent and left little in the way of space for depth. And that's talent, by the way, that doesn't start anywhere near as high as Crosby and Evgeni Malkin. Rutherford's got a tough task ahead of him in filling out the Penguins' roster, and he hasn't shown any particular aptitude for it. He was, however, quick to criticize the way in which the Penguins use their own analytics, before citing plus-minus as an indicator of why the team struggles so much.
And like Shero, Rutherford's draft record simply hasn't been very good. The rule of thumb is that you can't tell the quality of a draft until five years have passed, so let's go way back. In the 10 drafts starting in 2009 and working backward, Rutherford picked 77 players, and just eight have gone on to play at least 200 NHL games. Half of them were taken in the top 11 picks, where it's harder to "miss." In general, later rounds haven't been kind to the Hurricanes; 0nly Niclas Wallin and Jamie McBain got to the 200 mark after being selected outside the first round. U.S. Olympian Justin Faulk will clear that hurdle early next season. That's three out of 68 (4.4 percent) in a 10-year period, and that's awful; The average for late-round picks to play at least 200 NHL games is usually something like 12 percent, depending on position.
Take away the names, and every knock on Rutherford reads like a reason Shero was fired. That apparently doesn't matter for a lifer, because he "knows the game."
Rutherford didn't wait long to make his presence known. Even before he was officially introduced as the new GM, the one that's somehow going get the Penguins over the "early playoff exit" hump, he fired Dan Bylsma. Now another search, this time for a new coach, begins.
Maybe he'll go with an unexpected choice that revitalizes the Penguins. Or maybe he'll just hire Paul Maurice again.
---
Ryan Lambert is a columnist for Puck Daddy, among other places. His email is here and his Twitter is here.