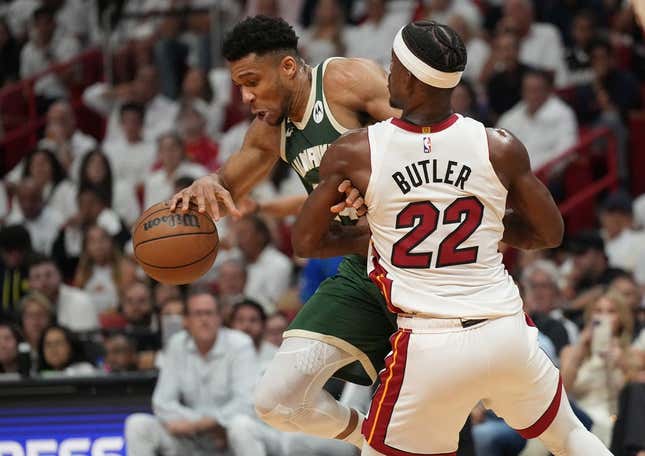 Jimmy Butler set a franchise playoff record with 56 points, and the Miami Heat recovered from a 15-point deficit to notch a 119-114 victory over the visiting Milwaukee Bucks on Monday night to take a 3-1 lead in a first-round Eastern Conference series
Bass' ERA stinks, but not compared to who he is off the mound | Worst of the Week Countdown
Butler was 19-of-28 shooting for the eighth-seeded Heat, who seized control of the series. Butler broke the previous scoring mark set by LeBron James, who posted 49 points in a playoff game against the Brooklyn Nets on May 12, 2014. Butler also set a personal career high, regular season and postseason
Butler's 56 points ties for fourth most in an NBA playoff game. He trails Michael Jordan (63 for the Chicago Bulls in 1986), Elgin Baylor (61, Los Angeles Lakers, 1962) and Donovan Mitchell (57, Utah Jazz, 2020). Also scoring 56 were Wilt Chamberlain (Philadelphia Warriors, 1962), Jordan (Bulls, 1992) and Charles Barkley (Phoenix Suns, 1994).
Brook Lopez had 36 points and 11 rebounds for the top-seeded Bucks. Giannis Antetokounmpo returned from a two-game absence due to a back injury to produce 26 points, 13 assists and 10 rebounds
The Heat will have a chance to clinch the series in Game 5 on Wednesday night at Milwaukee
Bam Adebayo had 15 points and eight rebounds and Caleb Martin scored 12 points for Miami, which never led until 3:17 remained.
Butler scored 21 fourth-quarter points and keyed the decisive charge when he buried a 3-pointer to give the Heat a 110-109 lead with 1:20 remaining
Butler followed up with a 22-footer and two free throws to push the lead to five before Adebayo made two free throws to cap a 9-0 burst to give Miami a 116-109 advantage with 32.7 seconds remaining.
The Bucks got no closer than four as the Heat finished it out
Antetokounmpo injured his back in Game 1 and missed the next two games. The Bucks split the contests
Jrue Holiday and Khris Middleton scored 14 points apiece for the Bucks, who shot 43.3 percent from the field and made 13 of 40 shot attempts from 3-point range
The Heat connected on 49.4 percent of their attempts, including 13 of 32 from behind the arc
The Bucks were cruising with a 101-89 lead after Lopez's dunk with 6:09 left before the Heat exploded with 13 consecutive points to take their first lead of the night
Antetokounmpo halted the run with a three-point play with 3:03 remaining to give the Bucks a two-point lead
Butler scored 22 points on 9-of-10 shooting in the first quarter, but the Heat trailed 33-28. Milwaukee held a 57-50 halftime lead and later took an 89-78 lead into the final stanza
--Field Level Media