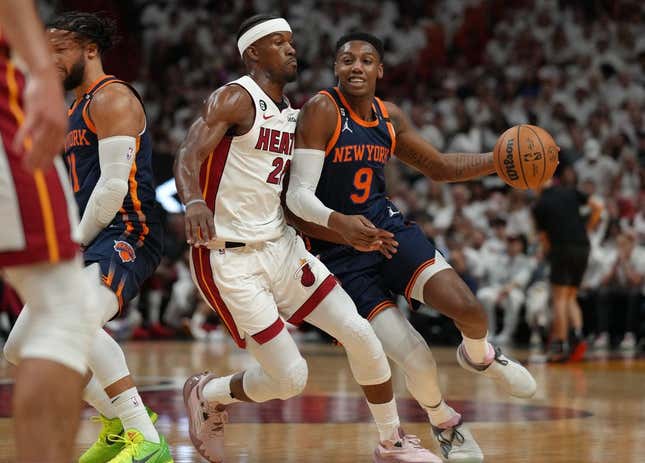 Jimmy Butler collected 24 points and eight rebounds to help the host Miami Heat post a 96-92 victory over the New York Knicks on Friday and win their Eastern Conference semifinal series in six games
Aaron Rodgers should go full Joe Namath | Comedian Bert Kreischer
Miami's Bam Adebayo recorded 23 points and nine rebounds and Max Strus scored 14 points. Kyle Lowry added 11 points and nine assists off the bench for the Heat, who became the first No. 8 seed to reach the conference finals since the Knicks did so in 1999
Lowry told NBA TV, "We are just resilient. We have a great culture. We have a great coach, a great locker room, we have great players and we have Jimmy Butler. Shoutout to Jimmy."
Miami advances to the conference finals for the third time in four seasons and will face the winner of the semifinal series between the third-seeded Philadelphia 76ers and second-seeded Boston Celtics. That series is tied at three wins apiece, with Game 7 set for Sunday in Boston.
Game 1 of the Eastern Conference finals will be played in Boston or Philadelphia on Wednesday.
Lowry said of the Heat's break before the next round, "It's time to rest and recover and get our brains off everything. Then watch the game on Sunday and see who we have to play.
Added Miami coach Erik Spoelstra, "It is really frickin' hard to get to the Eastern Conference finals."
The Heat benefited from a 38-20 edge in points in the paint to offset a dismal 25.9 percent shooting display from 3-point range (7 of 27)
New York's Jalen Brunson scored 41 points on 14-of-22 shooting from the floor, including 5-of-10 success from 3-point range.
"How is that dude not an All-Star or All-NBA?" Spoelstra said of Brunson.
Julius Randle recorded 15 points and 11 rebounds and RJ Barrett and Josh Hart each had 11 points for the fifth-seeded Knicks
New York coach Tom Thibodeau said, "There's always disappointment in the end of the season. ... Take what we learn from it. Get away for a little while and decompress."
Adebayo sank a jumper, Strus added a 3-pointer and Butler converted a three-point play to push Miami's advantage to 85-76 with 6:25 remaining in the fourth quarter.
New York went on a 14-7 run, capped when Brunson made a pair of free throws following a flagrant foul and Hart added a layup with 54.1 seconds to play. The surge brought the Knicks within 92-90, but Butler made a pair of free throws and New York's Quentin Grimes misfired on a 3-point attempt before Strus converted two at the foul line to seal the win
Brunson bolted out of the blocks by scoring 15 quick points and Randle capped New York's 16-3 run to stake his team to a 31-17 lead.
Adebayo completed a flourish by Miami with an emphatic dunk, and Strus made a pair of free throws with 37.1 seconds remaining to give the Heat a 51-50 advantage entering halftime
--Field Level Media