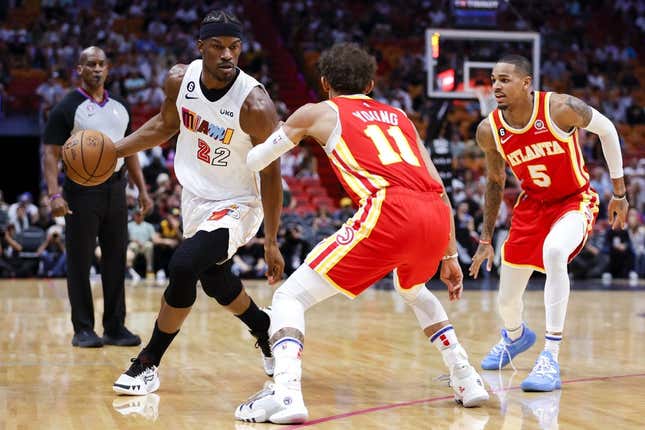 Jimmy Butler flirted with a triple-double, scoring a team-best 26 points to go along with nine rebounds and a game-high nine assists as the host Miami Heat defeated the Atlanta Hawks 130-128 on Monday night.
It was Miami's second straight win -- both against Atlanta -- as the Heat got 22 points from Victor Oladpio and 21 from Caleb Martin, who both came off the bench.
The Hawks were led by Trae Young, who had 25 points and seven assists. Dejounte Murray added 23 points and eight assists.
Atlanta, which has lost five straight road games, also got 17 points apiece from John Collins and reserve Saddiq Bey. Clint Capela had a double-double with 12 points and 10 rebounds for the Hawks, who blew a 15-point, first-half lead.
The Hawks have scored 100 or more points in 40 straight games, marking the second-longest active streak in the NBA.
However, the Heat, who won three of four games against Atlanta this season, also got 16 points, seven rebounds and five assists from Bam Adebayo to help them dispatch their division rival.
Miami played without Kevin Love, who has a rib injury. The Heat continue to be without starting point guard Kyle Lowry, who hasn't played since Feb. 2.
Both teams shot the ball well in the first quarter, but the Hawks led 43-30 at the end of the frame thanks to a 22-8 edge in points in the paint. Atlanta shot 76 percent overall, including a 4-for-8 mark on 3-pointers. Miami shot 55.6 percent from the field while canning 5 of 7 shots from distance.
But the Heat cut their deficit to 68-63 at halftime. Martin had 16 points on 5-for-7 shooting in the second quarter alone.
In the third quarter, Miami tied Atlanta twice, but the Heat never took the lead, and the Hawks took a 96-92 advantage into the fourth.
With 9:38 left in the fourth, Adebayo made two free throws to give Miami a 102-100 lead. It was Miami's first lead since 11-10.
Miami held on from there. It finished the game shooting 53.2 percent from the floor and 55.2 percent from beyond the arc, while Atlanta shot 55.4 percent from the floor, including 31 percent from deep.
--Field Level Media