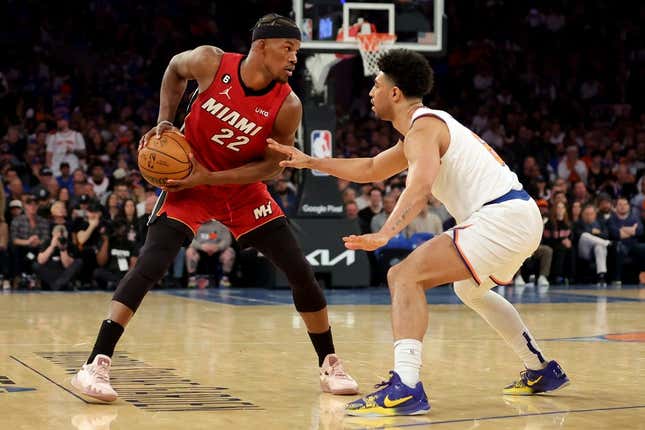 Jimmy Butler totaled 25 points and 11 rebounds and hobbled through the final five minutes as the visiting Miami Heat rallied for a 108-101 victory over the New York Knicks on Sunday afternoon in Game 1 of their Eastern Conference semifinal series
'Soccer fandom is full of gatekeepers' says Ted Lasso actor Brendan Hunt
After scoring 42 points to help the eighth-seeded Heat rally from 16 down to close out Milwaukee in Game 5 on Wednesday, Butler was 8 of 16 from the floor and 9 of 11 from the foul line in 44 minutes, including the final minutes on a bad leg
With 5:05 left and Miami up 95-92, Butler fell to the floor after being fouled by Josh Hart. He was holding his ankle and rolled over on his stomach after his right foot went under Hart's leg.
Butler hobbled to the bench and returned gingerly before making both free throws.
The Heat then finished it off when Kyle Lowry hit a baseline jumper for a 104-94 lead with 2:53 left
Gabe Vincent hit five of Miami's 13 3-pointers and added 20 points. Lowry added 18 points and six assists off the bench, while Bam Adebayo contributed 16 points and eight boards as Miami shot 42.4 percent.
Game 2 is Tuesday night in New York.
RJ Barrett led all scorers with 26 points, but the Knicks were held to 40 points in the final 22-plus minutes and blew a 12-point lead midway through the second quarter
Jalen Brunson added 25 and Obi Toppin finished with 18 as the Knicks shot 47.7 percent and missed 27 of 34 3-point attempts
Julius Randle, New York's leading scorer in the regular season, missed the game with a sprained left ankle that he originally injured March 29 and reinjured Wednesday in Cleveland. He worked out on the floor pregame before the Knicks announced he would sit out
Barrett scored 11 as the Knicks outscored Miami 17-5 over the final 5:02 for a 32-21 lead after one quarter. New York took a 40-28 lead on Brunson's layup with 7:30 left in the second quarter and settled for a 55-50 halftime lead after Adebayo sank a foul-line jumper right before the horn
Miami ripped off a 21-5 run, and consecutive hoops by Butler opened a 74-66 lead with 5:34 left in the third. After the Knicks moved within 74-72 on Brunson's basket with 4:33 left, the Heat took an 81-75 lead into the fourth
--Field Level Media