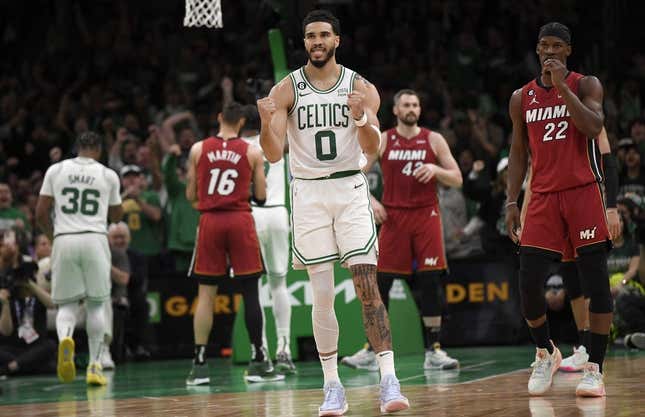 Jimmy Butler carried the Miami Heat during the first two rounds of the postseason, and the opening game of the Eastern Conference finals was no different
'Soccer fandom is full of gatekeepers' says Ted Lasso actor Brendan Hunt
Butler played a solid all-around game on Wednesday, racking up 35 points, seven assists, six steals and five rebounds while leading the Heat to a 123-116 victory over the host Boston Celtics in Game 1 of the Eastern Conference finals
Butler raised his 2023 postseason average to 31.5 with his fifth 30-point effort in 11 games. He stopped short of saying he is playing better than ever but asserted the Miami coaching staff has set him up for success.
"I'm playing at an incredible level because they are allowing me to do so and not putting a limit on my game," Butler said. "They are trusting me with the ball and on the defensive end, and I think that's what any basketball player wants. What anyone wants in life is to be wanted, to be appreciated and just let you go out there and rock."
Butler and the Heat were doing most of the rocking -- particularly during a 46-point third quarter -- while delivering the opening salvo in the best-of-seven series
Bam Adebayo recorded 20 points, eight rebounds and five assists as the Heat recovered from a 13-point, second-quarter deficit. Kyle Lowry, Caleb Martin, Max Strus and Gabe Vincent all scored 15 points for Miami
Jayson Tatum had 30 points and seven rebounds and Jaylen Brown added 22 points, nine rebounds and five assists for Boston. Malcolm Brogdon scored 19 points, Robert Williams III had 14 points and seven rebounds and Marcus Smart registered 13 points and 11 assists for the Celtics
Game 2 of the best-of-seven series is Friday night in Boston.
Letting a double-digit lead get away at home was disappointing to Tatum.
"We're going to watch film and talk about it," Tatum said. "We'll discuss the things we did well and the things we can do better and come out and execute better on Friday."
The Heat led 114-105 after Butler's basket with 5:33 remaining before the Celtics scored the next five points. Martin halted a Miami scoring drought of 3:23 by burying a 3-pointer to make it 117-110 with 2:10 to go
Butler then made a 3-pointer that went in and out and back in to make it a 10-point game with 1:03 left, and the Heat closed it out
"He's not playing for numbers," Miami coach Erik Spoelstra said of Butler. "He's trying to help the offense get the best possible high-percentage shot."
Miami shot 54.1 percent from the field, including 16 of 31 (51.6 percent) from 3-point range.
Boston made 51.9 percent of its shots and was 10 of 29 (34.5 percent) from behind the arc. Derrick White added 11 points for the Celtics
Miami trailed 66-57 at halftime before outscoring Boston 46-25 in the third quarter to take a 12-point advantage.
The Celtics led 71-59 after Smart's 3-pointer 65 seconds into the period before the Heat's explosion began
Miami used a 13-1 burst to tie the score. The Heat later went on a 10-2 push to move ahead 86-80 on a 3-pointer by Strus with 4:25 left in the period
Butler's 3-pointer made it 95-87 with 1:56 left, and Strus capped the Heat's 17-of-26 (65.4 percent) shooting performance in the third by sinking a 3-pointer with 7.6 seconds remaining. Miami took a 103-91 lead into the final stanza
"We got away from who we are in the third quarter," Celtics coach Joe Mazzulla said. "I thought the first half was good. I thought we just let go of the rope in the third quarter. Lost our sense of urgency. We played harder than them in the first half, and they played harder than us in the third quarter.
Tatum scored 18 first-half points. The score was tied at 47 before the Celtics went on a 15-2 run to open up a 13-point lead with 2:08 left in the second quarter
Butler scored 15 points and Lowry had 13 in the first half for the Heat
--Field Level Media