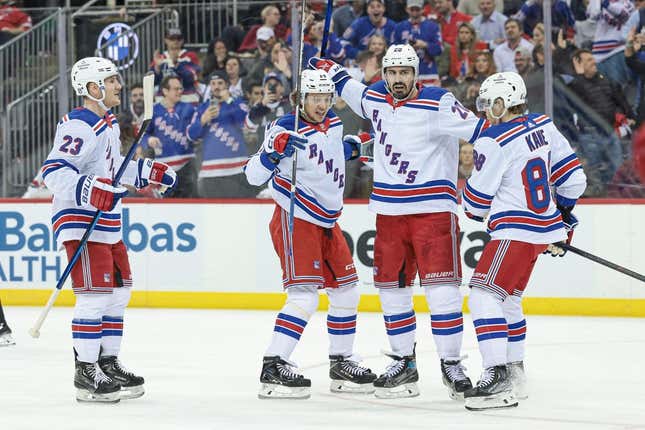 The New Jersey Devils were taken to school in their Eastern Conference first-round, series-opening 5-1 home loss to the New York Rangers
Air Jordans are more American than McDonald's French fries | Deon Cole's Ultimate Sports Fantasy
How quickly the Devils can learn their lessons will be key to their chances when the best-of-seven set resumes Thursday in Newark, N.J
Pick nearly any aspect of Tuesday's game and the Devils struggled to pass the test. The Rangers grabbed a 2-0 lead before the midway point of the first period, scoring both times within a couple of minutes after the Devils failed to convert on power-play opportunities
New Jersey needed more than eight minutes to register its first shot on net and surrendered two goals while short-handed. Maybe the most shocking element was how the Devils not only failed to score on four power plays, but did not even register a shot on goal while on the man-advantage
A half-dozen Devils made their playoff debut, and the jitters appeared to infect the whole team
"You got your first taste," coach Lindy Ruff told his players. "We talked about the emotions before the series started, about how to put away wins, how to put away losses. You got to take what you can from losses, you got to take what you can from the wins and you got to move on."
Having that game, as disappointing as it was, under their belts will allow the Devils more of a chance to find their up-tempo style
"There's always jitters, it's just how you handle them," forward Erik Haula said, "I think we learned a bit of a lesson, I think we're going to be fine going forward."
The Rangers are bracing for a much better performance from their Hudson River rivals, but will head into Game 2 feeling great about their effort in the opener
Goaltender Igor Shesterkin stopped 27 shots -- victimized only by a third-period penalty shot by Jack Hughes (who became the first player in NHL history to score his first playoff goal on a penalty shot in his postseason debut) -- while his teammates were stellar in many other aspects.
Chris Kreider scored a pair of power-play goals, making him the franchise's all-time leader with 36 playoff goals, and Adam Fox collected four assists, but the attack was all through the lineup.
The real key was New York's defensive performance, using a strong forecheck and limiting turnovers against a New Jersey squad that thrives on using its speed.
"They want you to turn it over in the neutral zone, get odd man rushes and get going the other way," Fox said. "I thought we were smart with the puck. We capitalized on special teams, that's a big part of it. They're going to try to get chances. They're going to get their chances, too, and we need some big saves when they do, and we got them. If we play like this, we're going to have success."
As a team, the Rangers blocked 23 shots, snuffing most of the actual opportunities the Devils generated
"They're a highly skilled team with guys that have great vision so they're always looking for the cross-ice passes and plays to the far side," New York forward Barclay Goodrow said. "It's a point of emphasis and I thought we did a great job (defending)."
--Field Level Media