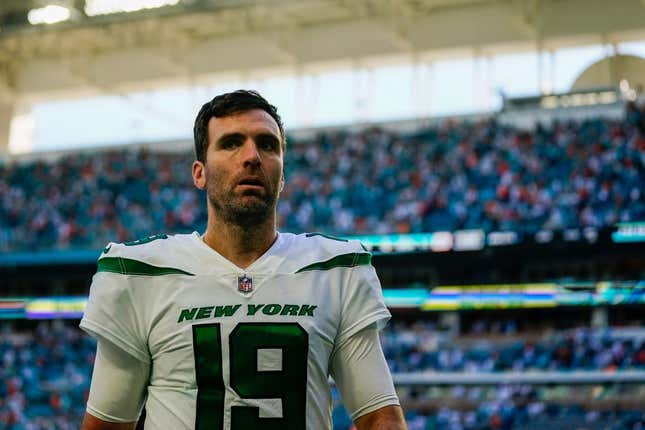 Unemployed but unretired quarterback Joe Flacco insists he still has more in the tank.
How running an NFL team is like running a restaurant | Chef Emeril Lagasse
Flacco, 38, has not signed with a team since playing in five games (four starts) last season with the New York Jets.
"Listen, I can still play," Flacco told ESPN. "That's me talking, obviously. I'm hoping that there's the silver lining that I'm not anywhere right now and that I can be available to anybody. I'm not saying it's going to be the truth, but if I was tied up with somebody as a backup and just didn't play at all when all of a sudden three guys go down, well, I'd probably be in the back of my head be thinking, 'Oh, man, would I have had an opportunity to go there?'
"So I do think that at the point that my career is in, it is a positive thing in a lot of ways that I'm not anywhere right now, because if somebody does need somebody, at least I'm available."
Flacco completed 110 of 191 passes for 1,051 yards with five touchdowns and three interceptions last season.
The Super Bowl XLVII MVP with Baltimore, Flacco has thrown for 42,320 yards with 232 touchdowns and 147 interceptions in 183 career games (180 starts) with the Ravens (2008-18), Denver Broncos (2019) and Jets (2020-22). He was selected by Baltimore with the 18th overall pick in the 2008 NFL Draft.
Flacco is 99-81 as an NFL starter in the regular season and 10-5 in the postseason.
—Field Level Media