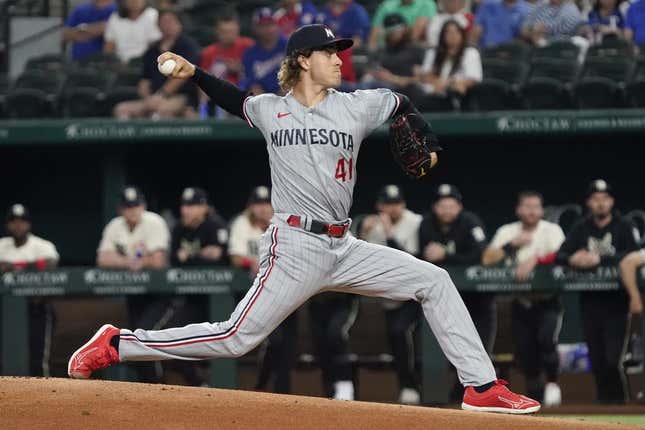 Right-hander Joe Ryan will try for his 11th win of the season as the Minnesota Twins attempt to complete a three-game series sweep of the host Cleveland Guardians on Wednesday afternoon.
How running an NFL team is like running a restaurant | Chef Emeril Lagasse
Ryan (10-8, 4.20 ERA) is 3-2 with a 1.83 ERA in seven career starts against the Guardians, including 2-1 with a sparkling 0.87 ERA in three starts at Progressive Field.
Cleveland (66-73), which trails Minnesota (73-66) by seven games in the American League Central with just 23 games remaining, will start rookie right-hander Gavin Williams (1-5, 3.46) in an effort to keep their slim playoff hopes alive.
Williams pitched one scoreless inning as an opener in a 4-2 victory over the Twins on Aug. 29, his only career appearance against Minnesota. He got out of a bases-loaded jam by getting Royce Lewis to pop out, no small accomplishment considering Lewis had hit grand slams in back-to-back games entering that contest and smashed another in a 20-6 victory in Monday's series opener.
Minnesota followed Monday's blowout win with an 8-3 victory on Tuesday to clinch what many viewed as a make-or-break series for Cleveland's division-title hopes. Donovan Solano hit a three-run triple to highlight a five-run eighth inning for the Twins, who improved to 4-1 on their current six-game road trip.
"We're excited," said Solano, whose sinking line drive to shallow center in the eighth snuck by the glove of a hard-charging Myles Straw and rolled all the way to the warning track. "We're playing right now like it's the playoffs every time we play. It's a good sign for us. If the team can make the playoffs, that's how we have to play."
That "if" is looking more and more like a "when" as the regular season winds down. After winning the first two games of the series by a combined score of 28-9, Minnesota now has a 98.9-percent chance to win the AL Central according to FanGraphs.
All five runs in the eighth came against Guardians reliever Trevor Stephan, who looked like he was going to get out of the inning allowing just a go-ahead sacrifice fly to Jorge Polanco.
But after Lewis and Max Kepler walked to load the bases, Stephan uncorked a wild pitch to allow Willi Castro to score before hitting Carlos Correa to load the bases again. Solano then broke the game open with his three-run triple that eluded Straw.
"Myles has to try to catch it like he did," Cleveland manager Terry Francona said. "It's kind of do-or-die and he got caught in-between."
Twins manager Rocco Baldelli has been extremely pleased with his team's approach at the plate.
"It's a very satisfying win because we had to work our tails off to get there, and I was happy about the way we did that," Baldelli said. "(Cleveland) has one of the best bullpens in all of baseball ... and we got to a really, really good guy, a guy who throws a lot of clean innings for them and is incredibly tough. We had good at-bats against him and it worked out."
Guardians right fielder Will Brennan, who is 5-for-9 with a double and an RBI in the first two games of the series, didn't hide his disappointment following the loss.
"I mean, it sucks for sure," Brennan said. "We expect a lot of things out of each other, and it definitely sucks. But we're ballplayers. We're gonna keep our heads down and come back (Wednesday) and try to salvage the series."
—Field Level Media