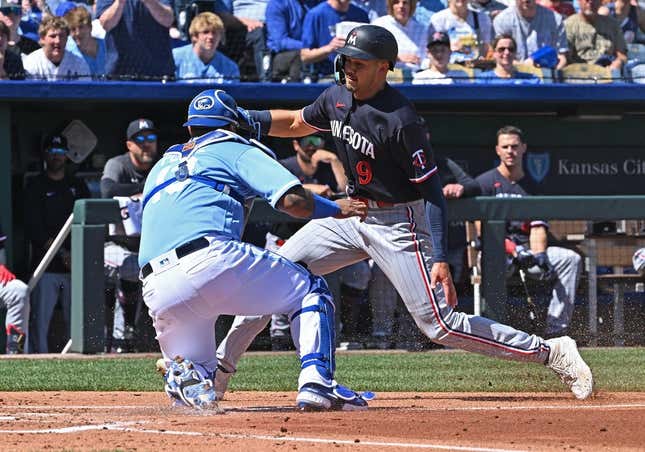 Joey Gallo hit two homers and drove in four runs, and Minnesota right-hander Joe Ryan continued his mastery of the Kansas City Royals as the visiting Twins swept the three-game series with a 7-4 win on Sunday afternoon
Ryan went six innings in improving to 5-0 with an ERA of 1.20 in 30 innings in his career against the Royals. He allowed one run on three hits and two walks, and struck out six in his first start of the season
Gallo also doubled and scored three times, and Ryan Jeffers added a pair of two-out, RBI singles for the Twins
Kansas City right-hander Brad Keller took the loss in his season debut, surrendering two runs on five hits and four walks in 4 2/3 innings. He hit a batter and struck out six.
Keller got the first two batters in the fifth but left after he walked the bases loaded. Left-hander Amir Garrett came on to get right-handed pinch hitter Kyle Farmer to end the inning and keep the Twins' lead at 2-1. Keller fell to 3-6 in his career against the Twins
Garrett then allowed Gallo's solo homer in the sixth, and Gallo launched a three-run shot off Dylan Coleman in the seventh.
The Royals, who lost the first two games of the series by identical 2-0 scores, finally got on the board when Edward Olivares hit a solo blast in the second inning. Matt Duffy hit a two-run bomb off reliever Jovani Moran in the seventh
Minnesota, which finished with 13 hits, scored single runs in the second and fourth innings on Jeffers' hits. Trevor Larnach had three hits, a run and an RBI hit in the eighth for the Twins, and Byron Buxton had two hits
The Royals had six hits overall, including two each by Olivares and Duffy
With Kansas City trailing 2-1 in the fourth inning, the Royals' Salvador Perez hit a leadoff double. But Ryan got a strikeout and two groundouts to preserve the lead
The Royals were 1-for-6 with runners in scoring position and 1-for-20 in the series. That one hit came in the ninth inning on Sunday on a single by Olivares after Michael Massey doubled
--Field Level Media