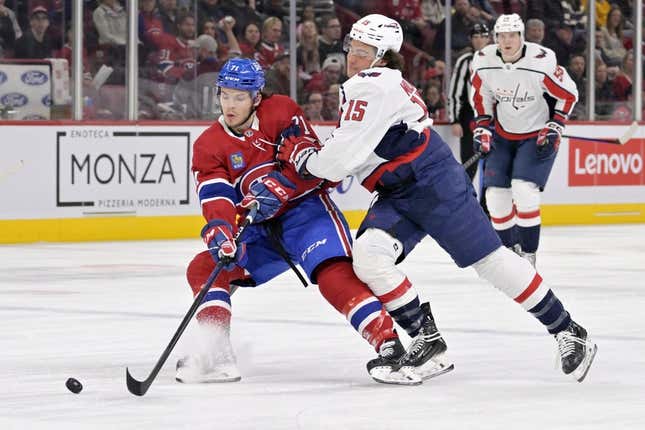 Joel Armia notched his second career hat trick, and the Montreal Canadiens defeated the visiting Washington Capitals 6-2 on Thursday night
Bass' ERA stinks, but not compared to who he is off the mound | Worst of the Week Countdown
Nick Suzuki had a goal and an assist for the Canadiens (31-42-6, 68 points), who had lost four straight and been shut out in consecutive games. Mike Matheson had three assists, and Sam Montembeault made 24 saves
Dylan Strome had a goal and an assist, and Darcy Kuemper made 26 saves for Washington (34-35-9, 77 points), who was eliminated from Stanley Cup Playoff contention on Wednesday. The Capitals have lost five (0-4-1) straight while scoring nine goals
Strome gave the Capitals a 1-0 lead at 5:30 of the first period when he entered the zone 2-on-1 with Tom Wilson, kept the puck and fired a wrist shot from the left circle
Suzuki tied it 1-1 with a short-handed goal at 3:42 of the second period. A long pass off the wall from Joel Edmundson sent Suzuki in alone and he deked around Kuemper before sliding the puck home.
Armia took Matheson's feed and scored from just inside the right circle for Montreal's second straight short-handed goal at 7:52. Armia entered the game with four goals in 39 games this season.
Brendan Gallagher made it 3-1 at 9:23. Jonathan Drouin got to a loose puck behind the net and fed in front to Gallagher, who beat Kuemper with a wrist shot from the slot.
Armia made it 4-1 at 11:15, scoring on a one-timer from the slot off a pass from Matheson.
Nicklas Backstrom pulled the Capitals within 4-2 at 14:27 of the third period, tapping in a centering pass from Strome during a power play with Kuemper pulled for the extra attacker
Armia completed the hat trick when he scored into an empty net at 16:58 of the third period; Mike Hoffman made it 6-2 with 18 seconds remaining.
Washington played with 11 forwards as Anthony Mantha was scratched with a lower-body injury.
--Field Level Media