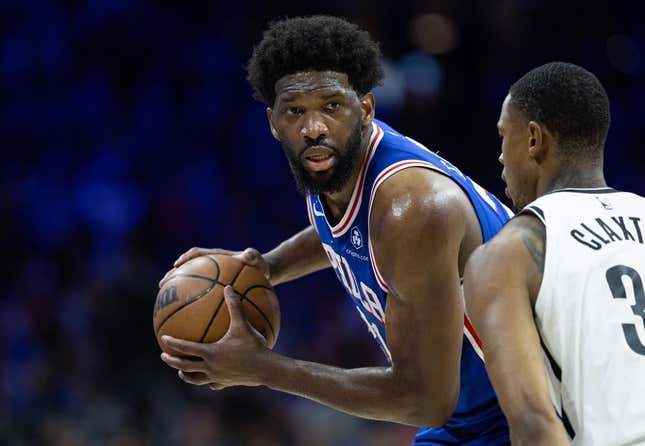 The Brooklyn Nets threw everything they could at Joel Embiid, and when the center encountered multiple defenders, he often found other teammates to make plays
By being able to provide help for Embiid, the Philadelphia 76ers head to Brooklyn, N.Y., seeking a 3-0 lead when the Eastern Conference first-round series continues Thursday night
The 76ers eye a 3-0 opening-round lead for the third straight year and a seventh straight postseason win over the Nets. If Philadelphia can win Game 3, it can close out the series Saturday afternoon in Brooklyn
Embiid averaged 24.8 points in four games during the 2019 first-round series against Brooklyn, and through two games in this series, he has averaged 23 points.
He scored 26 when the Sixers opened the series by never trailing in a 121-101 victory Saturday, and then finished with 20 on Monday when Philadelphia pulled away down the stretch for a 96-84 win.
"I believe in playing the right way, which is getting your teammates involved," Embiid said. "(Playing against) double- and triple-teams, making sure everyone touches the ball and sees the ball. That's what I believe in."
Embiid also helped the Sixers get a commanding 56-33 rebounding edge by grabbing 19 boards, matching his second-highest total in a playoff game and the seventh time in a postseason game he snatched at least 15 boards.
Embiid also finished with seven assists, matching his second-most in a playoff game and it led to the Sixers getting contributions from Tyrese Maxey and Tobias Harris. Maxey scored 18 of his 33 points in the second half and Harris finished with 13 of his 20 after halftime. The duo made a combined 21 of 37 field-goal attempts and seven of Philadelphia's 3-pointers.
"Just for him to be able to be patient," Harris said. "Especially in the second half, he did a really good job of picking apart their defense by seeing where the double-team was coming from and making the early pass right away. And we were just able to allow them to play catch-up from there."
The Nets' main problem Monday was the inability to get consistent offense going as they hope to stop an eight-game postseason losing streak. The Nets scored 35 points in the second half and shot 37.5 percent overall, their second-lowest field goal percentage all season
Cameron Johnson scored 28 points, including a big dunk on Embiid in the first half when the Nets took a five-point halftime lead. He scored only six points after halftime, and Mikal Bridges was held to 21 total on 6-of-15 shooting after opening the series with 30 points
"The only adjustment made was the ball didn't go in the hole for us," Nets coach Jacque Vaughn said. "We got open looks, they tried to go zone, we had enough shooting out there. The ball just didn't go in.
Among those who did not see the shots fall was Spencer Dinwiddie. He is 10-for-26 in the series and 13-for-47 over his past four games, a span where he has missed 16 of 18 3-point tries.
"Do we need some other people to step up at home? I'll take all of them," Vaughn said. "Anyone you want to sign up, put them on a list, I'll check that thing off. We need everybody to show up and be ready to play."
--Field Level Media