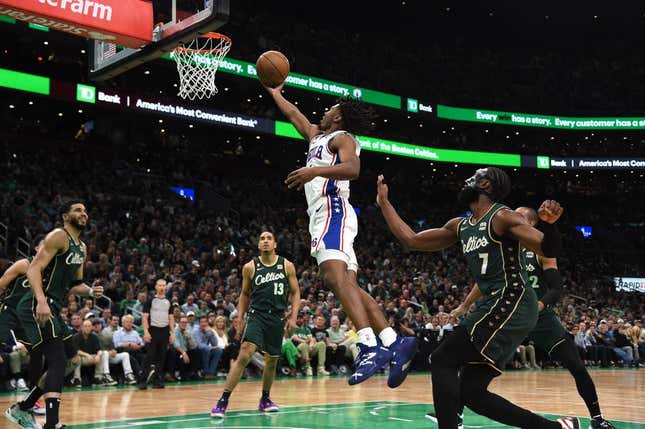 Joel Embiid scored 33 points, grabbed seven rebounds and blocked four shots to lead the Philadelphia 76ers to a 115-103 road victory over the Boston Celtics in Game 5 of the Eastern Conference semifinals Tuesday night
Air Jordans are more American than McDonald's French fries | Deon Cole's Ultimate Sports Fantasy
Tyrese Maxey added 30 points and seven rebounds for Philadelphia, which leads the best-of-seven series 3-2. The 76ers can wrap up the series on Thursday, when Game 6 will be played in Philadelphia
The 76ers received 17 points, 10 assists and eight rebounds from James Harden, while Tobias Harris contributed 16 points and 11 rebounds
Jayson Tatum led Boston with 36 points and 10 rebounds. Jaylen Brown (24) and Marcus Smart (14) were the only other Celtics who scored in double figures
The 76ers never trailed after the first quarter, and the lead never dipped below nine in the second half
Boston was within 11 points early in the fourth quarter, but Philadelphia went up 98-81 on an Embiid 3-pointer with 8:33 to play. The 76ers took a 113-92 lead -- their largest advantage of the series -- on a Maxey 3-pointer with 3:57 remaining
Boston's Al Horford missed each of his seven 3-point attempts and didn't score in the game.
Philadelphia had a 49-36 edge in rebounds, and Boston shot 39.8 percent from the field (33 of 83). The 76ers hit 50.6 percent (40 of 79)
Philadelphia led 33-26 after one quarter, then opened the second quarter on a 7-0 run. The Celtics closed the half with a 8-3 spurt but trailed 58-49 entering the third
Embiid had 21 points and five rebounds in the first half. Tatum missed his first six shots on the night but had 15 points at the break.
The 76ers stretched their nine-point halftime lead to 18 points on two Harden free throws with 2:44 left in the third, then went up by 19 on a Maxey layup with 29 seconds left in the period. Boston trailed 88-72 with 12 minutes to play
The Celtics took their third loss in six home playoff games this season. The 76ers improved to 4-1 on the road in the postseason
--Field Level Media