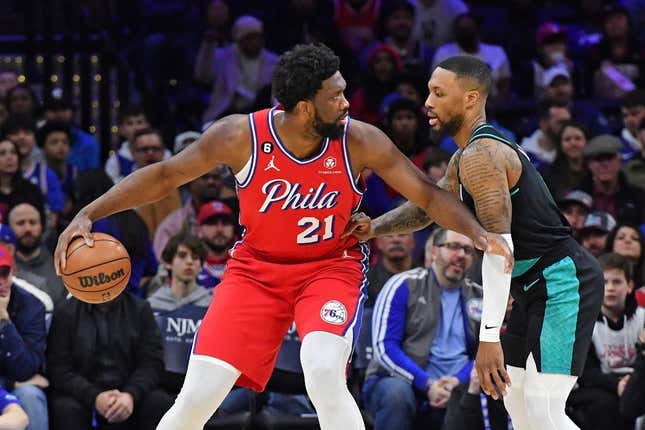 Joel Embiid hit a fadeaway 15-foot jump shot from the foul line with 1.1 seconds remaining to lift the host Philadelphia 76ers past the Portland Trail Blazers 120-119 on Friday.
How running an NFL team is like running a restaurant | Chef Emeril Lagasse
It was the Sixers' only lead in the only lead change of the game.
Damian Lillard caught an inbounds pass near midcourt and wasn't able to launch a potential game-winning shot in time.
Embiid scored 39 points and James Harden added 19 points, nine rebounds and eight assists for the Sixers, who rallied from 21 down for their fourth win in a row.
Tyrese Maxey and De'Anthony Melton contributed 13 apiece and Georges Niang had 12.
Maxey hit two fee throws with 38 seconds left to cut the deficit to 119-118. Lillard then committed a turnover which gave the Sixers one final possession.
Anfernee Simons returned from an ankle injury to hit eight 3-pointers and score 34 points for the Trail Blazers. Simons hadn't played since March 1 when he reaggravated his ankle.
Jerami Grant added 24 points and 10 rebounds and Lillard had 22 points, 11 assists and six rebounds. Cam Reddish scored 14 and Jusuf Nurkic had 11.
Nurkic's three-point play wit 46.4 seconds left had given Portland a 119-116 advantage.
The Sixers chipped away at the deficit and closed within 103-98 with 8:52 remaining after Harden converted a three-point play.
Reddish and Drew Eubanks scored on consecutive possessions and the Trail Blazers went on to score seven straight for a 12-point lead.
Niang hit a trey with 5:17 left and the Sixers trailed 112-104.
The Trail Blazers had gone ahead 66-50 when Lillard dropped in a 3-pointer from the top of the key with 3:37 left in the second quarter.
After a turnover by Embiid, Lillard found Reddish for a 15-foot jumper. Grant added a trey from the corner and Portland led 71-50.
Embiid scored the final two baskets of the half and the Sixers closed within 71-56 at halftime.
The Trail Blazers hit 11 of 19 shots from 3-point territory in the first half. Embiid paced the Sixers with 20 points.
Philadelphia cut the deficit to seven early in the third quarter before the Trail Blazers extended their advantage to 86-73 following Reddish's 3-pointer with 4:23 remaining.
Portland led 96-85 at the end of the third.
--Field Level Media