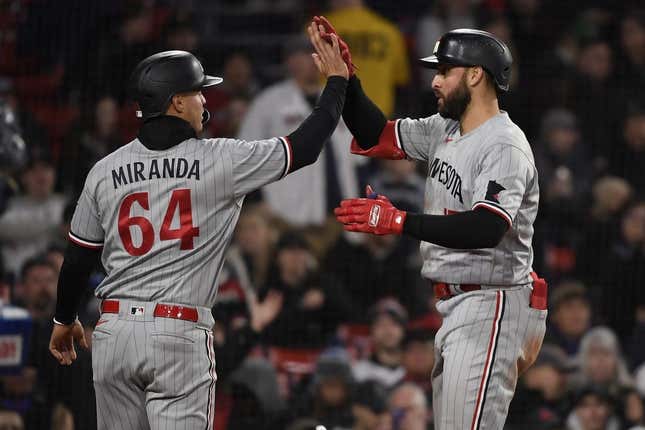 Joey Gallo made an immediate impact when he returned to the Minnesota lineup Wednesday night, and the Twins hope he will continue to swing a hot bat when they wrap up a three-game series against the Boston Red Sox on Thursday afternoon
Air Jordans are more American than McDonald's French fries | Deon Cole's Ultimate Sports Fantasy
Gallo came off the injured list Wednesday and went 2-for-5 with a three-run home run during Minnesota's 10-4 victory over Boston later that night. His long ball came against Corey Kluber and handed the Twins a 7-0 lead in the third inning. It was his team-high fourth home run of the season
Gallo, a 29-year-old outfielder/first baseman, missed Minnesota's previous 10 games due to a right intercostal strain, an injury he sustained in an April 7 game against the Houston Astros. He was hitting .278 with three home runs and seven RBIs in seven games with the Twins before he was injured
"He'll be at first base a lot for us going forward," Twins manager Rocco Baldelli said. "He feels good, significantly better than when he left us. It's good to have his type of at-bats back in there. Someone that can do some damage and someone that can have a good, deep at-bat.
Minnesota signed Gallo to a one-year deal after he split the 2022 season between the New York Yankees and Los Angeles Dodgers. He hit 19 home runs last year but batted .160 and had a 39.8 percent strikeout rate.
"He's been one of the guys that's been hurt the most by the way that the game has progressed over the last five or 10 years (with defensive shifts)," Baldelli said. "His numbers, and a few of these left-handed hitters' numbers, look less than where they simply would have at any other time in the history of baseball."
The Red Sox will be looking for more offense from the top of their order on Thursday after the first four batters in their lineup -- Alex Verdugo, Ramiel Tapia, Justin Turner and Rafael Devers -- went 0-for-16 in the Wednesday loss. Boston hitters were 1-for-7 with runners in scoring position
Second baseman Enmanuel Valdez was one bright spot in the Boston lineup on Wednesday. Although he was shaky in the field, Valdez collected two hits in his major league debut.
"Like we said, this guy can hit," Red Sox manager Alex Cora said. "He can hit ... the ball hard. Even his last at-bat he stayed with the pitch and went the other way under control. Interesting night on the other side (defensively).
Valdez was originally charged with two errors, but one was changed to a hit.
Right-hander Kenta Maeda (0-2, 4.09 ERA) is scheduled to start on the mound for Minnesota on Thursday. The Red Sox will counter with right-hander Tanner Houck (2-0, 4.50 ERA)
Maeda exited his first start of the season due to arm fatigue, and then allowed eight hits and four runs in six innings during latest outing, on April 10 against the Chicago White Sox. Maeda skipped his next turn in the rotation and will enter the Thursday game with extra rest.
He is 0-2 with a 4.50 ERA in two career starts against the Red Sox
Houck won his first two starts of the year, then gave up two runs on four hits in four innings against the Los Angeles Angels during a no-decision on Friday.
Houck has a 1-0 record with a 2.61 ERA two career starts vs. the Twins. In his most recent meeting with Minnesota, he threw 5 2/3 scoreless innings en route to a victory on April 16, 2022
--Field Level Media