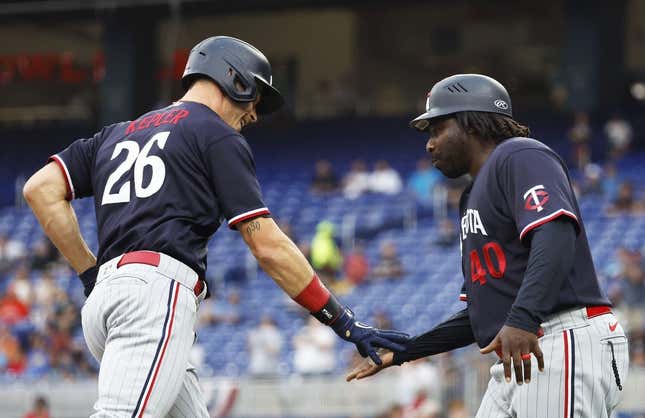 Joey Gallo slugged a three-run homer, and Tyler Mahle struck out seven batters, leading the Minnesota Twins to an 11-1 win over the host Miami Marlins on Monday night
Will South Beach Flu give the Heat home court advantage? | Keep it a Buck(et)
Max Kepler also homered for the Twins. But he was removed in the fourth inning due to soreness in his right knee. Kyle Farmer took his place after Kepler beat out an infield single
Gallo's homer in the second inning was his third in three at-bats, counting two he hit against Kansas City on Sunday. His hot bat has helped the Twins to a 4-0 start. It's Minnesota's best start since 2017
Trevor Larnach also had a big game for the Twins, going 2-for-5 with a homer, a triple and three RBIs
Mahle (1-0) allowed five hits, one walk and one run in five innings, earning his first win since August 17.
Johnny Cueto (0-1) made his Marlins debut, retiring just three batters and allowing three hits, one walk and four runs. He was removed three batters into the second inning due to tightness in his right biceps. His last pitch was the home run ball to Gallo
Ironically, this was the 15th-year anniversary of Cueto's MLB debut. Cueto, 37, was much better in that 2008 game, beating Arizona by allowing just one hit and one run in seven innings, striking out 10.
The Marlins were also without shortstop Joey Wendle, who was scratched due to oblique soreness. Jon Berti took his place
Miami, just 1-4 on its season-opening homestand, was led by ex-Twins second baseman Luis Arraez, who extended his hitting streak to 14 games. Arraez, who won a batting title for the Twins last year, went 2-for-5 with one RBI, and he is now hitting .524
Minnesota took a 1-0 lead on the fourth pitch of the game as Kepler - who had gone 0-for-13 in the Twins' opening series - smashed a 2-1 changeup for his home run
The Twins made it 4-0 in the second as Jose Miranda walked, Nick Gordon singled, and Gallo pulled his homer on a 112-mph liner to right
Minnesota extended its lead to 6-0 in the third on Larnach's RBI triple to the right-field corner and Miranda's run-scoring single.
The Twins made it 8-0 in the fourth on Carlos Correa's two-run double to the left-center gap before Miami finally got on the board in the fifth on Arraez's run-scoring single
Larnach's two-run homer in the seventh gave Minnesota a 10-1 lead.
Miami used catcher Jacob Stallings on the mound in the ninth, and he allowed a homer to Ryan Jeffers.
--Field Level Media