This feels like a last go-round for this era of the Red Wings, but one of the last decade's more familiar faces is missing: Johan Franzen, out since January with his latest concussion, almost surely out for the season no matter how deep Detroit goes, and very questionable to ever resume his hockey career.
Only in the last few weeks has Franzen been able to put on skates. Speaking to reporters yesterday for the first time since going on IR, he said the hardest part was not being able to play with his sons, ages 4 and 2:
"It's tough to see the disappointment in their eyes — 'Why can't Dad play with us?' " Franzen said. "You know it breaks your heart."

He skated with one of his kids last week.

"It gets you thinking when you're in that position where you can't do that anymore, it's really heartbreaking," Franzen said. "So it makes you make every day count and play as much as you can with them."
Franzen was blindsided by Edmonton's Rob Klinkhammer on Jan. 6. ( This video should be cued up; if not, the hit occurs at 4:57. He stayed in the game, but the symptoms struck—hard—on the bus back to the hotel. He said he believes it was his fourth concussion, but isn't totally sure.
For about two months, Franzen says, he could barely get out of bed. "I got up and tried to do whatever and got a migraine and had to shut right down." Even now he says he has to go back to sleep in the afternoon or he'll be debilitated by a headache.

G/O Media may get a commission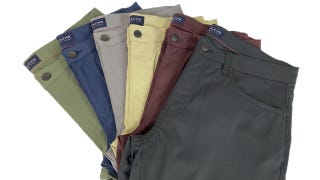 JACHS NY Fall Stretch Tech Pants
The 35-year-old Franzen still has five years left on his contract, but he sounds like he wouldn't be shocked if his career has already ended long before he was ready.
"I had my mind set on coming back," he said. "I'm just hoping one day I'll wake up, and it's gone."
The long-term effects of head trauma in hockey doesn't get the attention it does in football, for any number of reasons: the sport's more limited appeal, the self-imposed reductions in fighting and in icing goons, the failure to consolidate the various lawsuits from ex-players, and the lack of evidence showing the league knowingly and maliciously buried the science, to name a few. But number one is a distinct lack of media coverage (and I'm as guilty as anyone). It's hard to get fans to care if they're not shown why they ought to. Franzen's a reason to care.