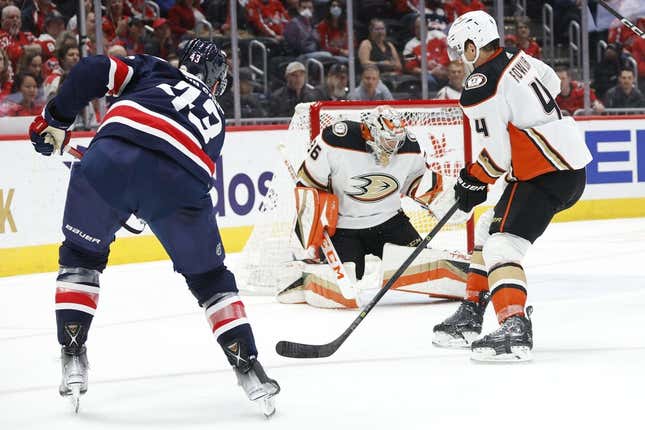 John Gibson made 41 saves for the visiting Anaheim Ducks in a 4-2 win against the Washington Capitals on Thursday night in Washington D.C.
Isac Lundestrom, Troy Terry, Jakob Silfverberg and Derek Grant scored while Cam Fowler had two assists for the Ducks, who ended a six-game losing streak.
T.J. Oshie and Nick Jensen scored and Charlie Lindgren made 17 saves for the Capitals, who have lost six in a row.
Max Comtois set up Silfverberg, who converted to break a 2-2 tie at 2:15 of the third period. Grant scored into an empty net with 1:31 left to put the game away.
Oshie tipped in a shot while on a power play to give Washington a 1-0 lead at 11:41 of the first period. Lundestrom received a long stretch pass from Fowler and scored on a short breakaway to tie it 1-1 at 7:09 of the second period.
Jensen moved Washington back 2-1 ahead at 9:07 of the second when he skated through the left circle with the puck and scored in close for his second goal of the season.
Terry, who had missed the previous seven games with an upper-body injury, scored 44 seconds later to tie the score 2-2.
His shot from the high slot hit the crossbar, but he was credited with the goal after the puck crossed the line during a scramble in front of the net.
Washington forward Alex Ovechkin returned after missing four games following the passing of his father Mikhail Ovechkin, whose funeral was held Saturday in Moscow.
Ovechkin leads the Capitals in goals (32) and points (54) this season.
Washington defenseman Dmitry Orlov and forward Garnet Hathaway were traded shortly before the game to the Boston Bruins in exchange for forward Craig Smith and draft picks.
Anaheim was without its co-leading goal scorer on the season, Adam Henrique, who sustained a lower-body injury in a 6-1 loss at the Tampa Bay Lightning on Tuesday and was placed on injured reserve.
Ducks defenseman John Klingberg also sat out with a lower-body injury.
--Field Level Media