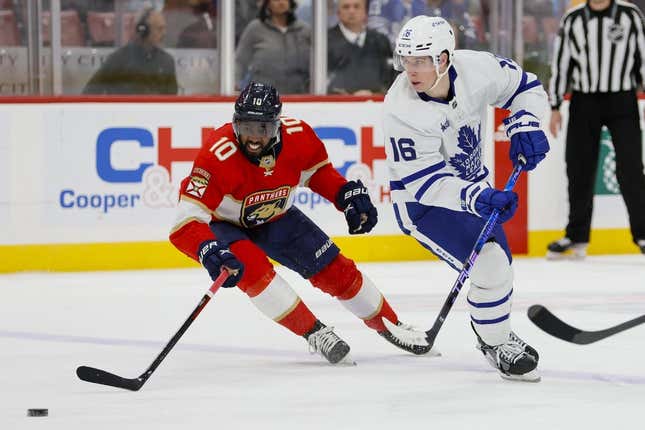 John Tavares scored with 22 seconds left in overtime and Ilya Samsonov made 46 saves to lead the Toronto Maple Leafs past the host Florida Panthers 2-1 on Monday night in Sunrise, Fla
Bass' ERA stinks, but not compared to who he is off the mound | Worst of the Week Countdown
Auston Matthews scored Toronto's other goal, his 40th of the season. Mitchell Marner had one assist for his 99th point of the campaign.
Brandon Montour scored for the Panthers
Florida (42-31-8, 92 points) had its six-game win streak snapped. All six games were won by third-string goalie Alex Lyon, who finally took a loss on Monday despite 23 saves.
Earning one point for the overtime loss gave Florida a slight lead over the New York Islanders (91 points) and the idle Pittsburgh Penguins (90) in the Eastern Conference wild-card standings. Only two of those three teams will make the playoffs.
Florida will still get in if the Panthers can defeat the visiting Carolina Hurricanes on Thursday in the regular-season finale for both teams
Unlike the Panthers, Monday's game was not as important for the Leafs (48-21-11, 107 points), who have clinched a playoff berth and are assured of finishing second in the Atlantic Division. After two more games in the regular season, the Leafs will play the Tampa Bay Lightning in the first round of the playoffs
Monday's game was a defensive struggle.
Florida outshot Toronto 15-8 in a scoreless first period that featured one failed power play for each side. Florida's Ryan Lomberg had one of the best scoring opportunities of the period, but Samsonov stopped him on a breakaway.
Toronto opened the scoring with 2:13 left in the second as Marner fired the puck from just inside the blue line. There were four Leafs players in front of the net, but it was Matthews who got the deflection as the puck bounced off Lyon and trickled into the net.
Florida tied the score 1-1 with 10:24 left in regulation. Carter Verhaeghe sped up the left wing and dished to Montour, who was trailing on a 3-on-2 rush. Montour one-timed the puck, getting it past Samsonov's stick.
--Field Level Media