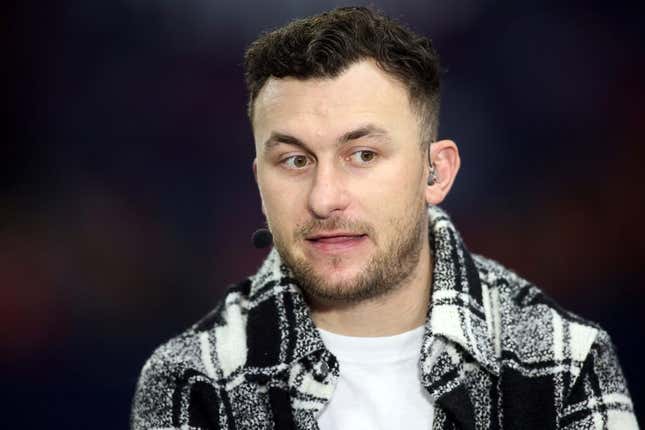 Former NFL quarterback Johnny Manziel said he attempted suicide after the Cleveland Browns released him in March 2016
How running an NFL team is like running a restaurant | Chef Emeril Lagasse
Manziel said in the Netflix documentary "Untold: Johnny Football" that he purchased a gun and went on a "$5 million bender" in which he wanted to spend money before taking his life
"I had planned to do everything I wanted to do at that point in my life, spend as much money as I possibly could and then my plan was to take my life," Manziel said in an exclusive interview with USA Today. "I wanted to get as bad as humanly possible where it made sense and it made it seem like an excuse and an out for me.
Manziel's attempt to take his life failed, however, as the gun apparently malfunctioned
"Still to this day, don't know what happened. But the gun just clicked on me," Manziel said in the documentary, which is scheduled for release on Tuesday
Manziel, 30, said in the documentary that he was diagnosed with bipolar disorder. The failed suicide attempt resulted in him leaving Los Angeles and returning to his family's home in Texas
"It's been a long, long road, and I don't know if it's been great or it's been bad. That's kind of still up for debate," his father, Paul Manziel, says in the documentary, according to multiple reports. "But we're blessed. And he's still with us. And we can mend all the fences still. I think Johnny's got a lot better days coming than what he's had.
A Heisman Trophy winner in 2012, Johnny Manziel was selected by the Browns with the 22nd overall pick in the 2014 NFL Draft
He completed 57.0 percent of his passes for 1,675 yards with seven touchdowns and seven interceptions in 14 games (eight starts). He also rushed 46 times for 259 yards and a score
Manziel also played with the Hamilton Tiger-Cats and Montreal Alouettes of the Canadian Football League in 2018 and Memphis Express in the Alliance of American Football in 2019
--Field Level Medi