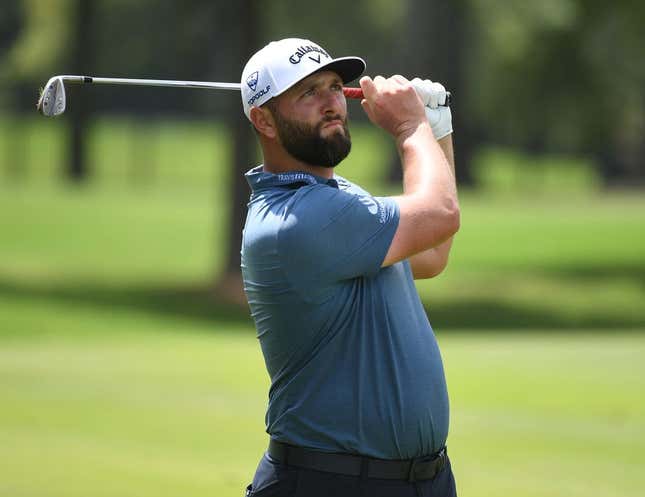 The PGA Tour has brought the BMW Championship back to Olympia Fields Country Club in the Chicago suburbs this week for the first time since Jon Rahm made one of the most memorable putts of his career.
Is Texas or Florida State a bigger national title contender? | Agree to Disagree
The only thing missing was a roaring crowd of fans.
Rahm beat Dustin Johnson in a playoff at the 2020 BMW Championship by making an incredible, curling birdie putt from 66 1/2 feet away at Olympia Fields' 18th hole.
Rahm's reaction to the putt — disbelief as it tracked toward the cup on an 90-degree angle, then shouts of excitement and two vigorous fist pumps — was backed by only a handful of spectators allowed on the course, as full crowds were not back that early amid the COVID-19 pandemic.
The Spanish star had a typically thoughtful response Tuesday when asked where that moment ranked in his career.
"At that moment, I think if there were crowds and I made that putt, it probably would be a unanimous No. 1," Rahm said. "But because there was nobody there and there was really no reaction besides mine, it's not that it's anticlimactic, but it's a little bit — it's a bit lackluster because of what you're used to seeing when you make a good putt like at a moment like the U.S. Open.
"It wouldn't be No. 1, but it's definitely top three."
It's understandable, as Rahm has gone on to even greater successes since that putt earned him a $1.71 million paycheck. He won the 2021 U.S. Open and the 2023 Masters and held the title of No. 1 golfer in the world for 52 total weeks.
One thing Rahm has yet to do is earn a FedEx Cup, but he enters this week's BMW Championship first in points with a slight margin over Scottie Scheffler. He's in control of his own destiny to enter next week's Tour Championship at Atlanta's East Lake Golf Club in the No. 1 spot, which comes with a two-stroke advantage to start the tournament.
"(The) point of coming to the playoffs is to give yourself the best chance to get to East Lake in the No. 1 spot. I've done a pretty good job so far," Rahm said. "Hopefully, this week I can have a good performance like I did last time and earn it and clinch it and give myself the best shot for the win. It's been a great year so far, so hopefully I can end it off the way I started it."
There's another honor Rahm could pick up for the first time in 2023: PGA Tour Player of the Year.
"Player of the Year is earned on the golf course. That's what I focus on," Rahm said. "Because of what I've done this year, I've earned the spot to be considered Player of the Year, but we've got to finish it off. I would like to play good this week and next week to leave no, let's say, questionables in there and just clinch it."
Because of recent rains, Rahm feels the course will play different than in 2020, when 4-under 276 was enough to put him in a playoff with Johnson.
"I think, was I 6-over par through two rounds?" Rahm said of 2020. "Honestly, it was a very small tweak on the setup of my swing that allowed me to play the way I did on the weekend. Nothing else."
—Field Level Media