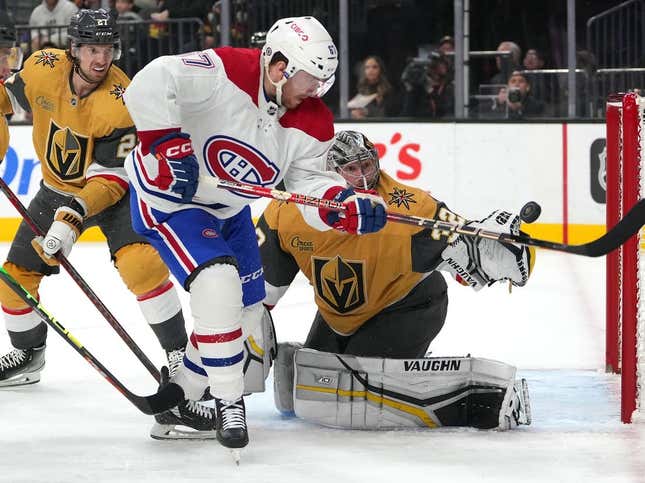 Ivan Barbashev scored two goals and Jonathan Quick made 25 saves in his Vegas debut as the Golden Knights withstood a three-goal third period by the visiting Montreal Canadiens to hold on for a 4-3 victory Sunday afternoon.
It was the first two-goal game of the season for Barbashev. Shea Theodore and Reilly Smith also scored for Vegas, which broke a tie for first place in the Pacific Division with Los Angeles and moved into the top spot in the Western Conference with its third straight win.
Quick was making his first start since Feb. 26 with the Los Angeles Kings when he was pulled after allowing three goals on seven shots in a 5-2 loss to the New York Rangers. He was dealt twice over a 24-hour period, first to Columbus on Wednesday and then Vegas, after playing in 743 games with the Kings and helping lead them to Stanley Cup titles in 2012 and '14.
Mike Matheson, Alex Belzile and Rafael Harvey-Pinard scored for Montreal. Jake Allen, playing his 100th game in a Canadiens uniform, finished with 24 saves.
Quick faced just five shots in the first period as Vegas built a 2-0 lead. Theodore, who scored the game-winner in Friday's 4-3 shootout victory over New Jersey, started the scoring at 12:37 mark with a wrist shot from the top of the left circle through traffic past Allen's blocker side for his seventh goal of the season.
Barbashev made it 2-0 with 18 seconds left in the period with his first goal with the Golden Knights, tapping in a Jack Eichel pass on the backdoor inside the right post.
Vegas extended the lead to 3-0 midway through the second period when Smith shoveled a William Karlsson pass into an open night at the end of a 2-on-1 for his 21st goal of the season.
Matheson cut it to 3-1 at the 2:04 mark of the third period when he snapped a wrister from the slot past Quick's blocker side.
The two teams then scored three goals in a 58-second span. Barbashev made it 4-1 on a rebound of a Michael Amadio shot that bounced in off his chest and barely across the goal line. Belzile answered just 23 seconds later with a wrist shot from the right circle over Quick's left shoulder for the second goal of his career. Harvey-Pinard followed 35 seconds later with his eighth goal off a behind-the-net pass from Jesse Ylonen to make it 4-3.
Montreal pulled Allen for an extra attacker and nearly tied it with 1:22 left but Mike Hoffman's shot from the bottom of the left circle bounced off the near post.
--Field Level Media