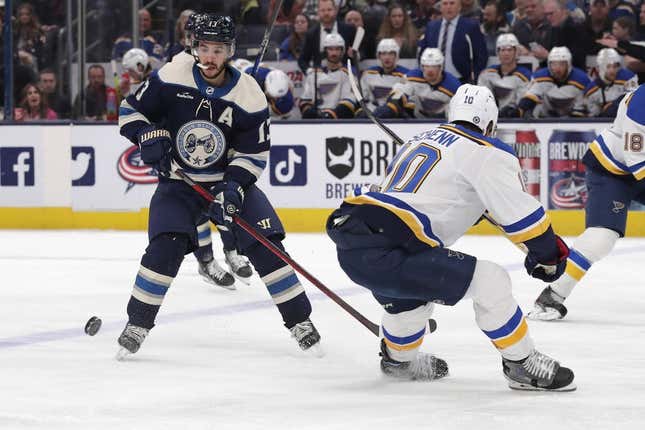 Jordan Kyrou scored a three-goal hat trick as the visiting St. Louis Blues defeated the Columbus Blue Jackets 5-2 on Saturday.
Sammy Blais had a goal and two assists for the Blues, who won for just the third time in their last 11 games.
St. Louis got two-point games from Brandon Saad (goal, assist), Brayden Schenn (two assists) and Robert Thomas (two assists). Thomas Greiss made 37 saves to earn the victory.
Patrik Laine and Boone Jenner scored for the Blue Jackets, who lost their fourth straight game. Johnny Gaudreau had two assists and Michael Hutchinson made 19 saves.
Saad put the Blues up 1-0 at the 7:19 mark of the first period by driving to the left post and poking in Blais' cross-ice pass. Hutchinson blocked the pass but accidentally nudged the puck into the net.
Laine tied the game 1-1 with a power-play goal less than 2 minutes later. Gaudreau fired a seam pass from the right wing to set up Laine's one-time blast from the lower left circle.
That extended Laine's goal-scoring streak to four games.
But the Blues retook the lead by scoring off the rush with 6:22 left in the first period. Kyrou drove to the right post and converted a backhand pass from Robert Thomas off the left wing.
The Blues expanded the lead to 3-1 with 1:53 left in the period. Blais worked a give-and-go play with Saad to score breaking in from the right circle.
Kyrou increased the Blues lead to 4-1 by scoring from the slot with 7:45 left in the third period.
With Hutchinson off the ice for an extra attacker, the Blue Jackets cut their deficit to 4-2 with a 6-on-5 goal with 4:05 to play. Kent Johnson fired a shot from straight away and a Jenner deflected it in.
But Kyrou responded with an empty-net goal to restore the Blues' three-goal margin.
--Field Level Media