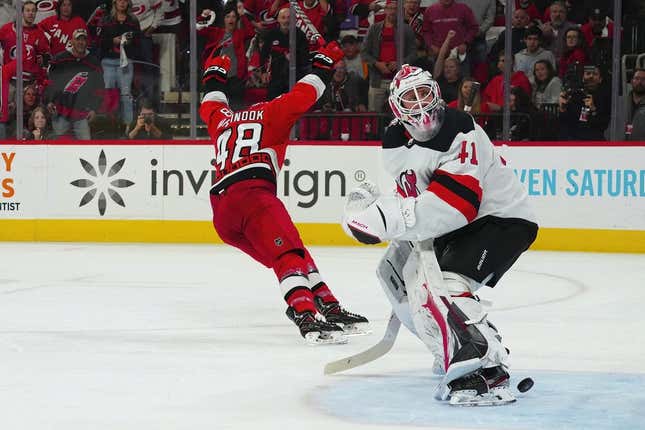 The Carolina Hurricanes developed a knack for receiving production from all sorts of sources throughout the season
Will South Beach Flu give the Heat home court advantage? | Keep it a Buck(et)
That might be going to even another level during the postseason.
They'll try to continue their widespread production with a chance to clinch their Eastern Conference second-round series with the New Jersey Devils in Game 5 on Thursday night in Raleigh, N.C
"The great thing about our team, and I feel like it's a big part of winning teams in the playoffs, is that some guys might score, and other nights you have all four lines scoring," Hurricanes forward Martin Necas said. "It's huge in these games. It's part of winning games here in the playoffs.
The Hurricanes posted a 6-1 win in Game 4 on Tuesday to secure a 3-1 lead in the best-of-seven series
Tuesday's game featured a three-point outing (one goal, two assists) from forward Jordan Martinook, who's not considered one of the team's main offensive weapons. However, he has set a franchise record with four consecutive multi-point outings in the same postseason.
"Being up 3-1 going home is the main thing," Martinook said. "After Sunday (an 8-4 loss), we obviously weren't happy. We wanted to come out and play our style. The first five minutes we were on our heels again, but once we settled in again we got to our game."
It's rewarding for coach Rod Brind'Amour because Martinook is described as such a critical part of the team.
"He has played well all year," Brind'Amour said. "He's one of those players that doesn't always get all the recognition for all the work he puts in."
Carolina is trying to reach the Eastern Conference finals for the first time since 2019.
"We're going to do everything we can to try to win it," Brind'Amour said. "And they're going to do everything they can to not (let that happen). We're going to have to be at our best to win it."
The Devils have been in these pressure situations before. They went seven games with the New York Rangers in the first round
"We know now no more losses," New Jersey captain Nico Hischier said. "We've got to play our best game every game and take it game by game. The most important game of the year is coming up."
In the first round, Carolina held a 3-1 series lead on the New York Islanders before dropping a 3-2 decision in Game 5 at home. The Hurricanes captured the series with a 2-1 overtime victory in Game 6
"It's always about how you respond," Brind'Amour said.
The Hurricanes seem comfortable with Frederik Andersen in goal, particularly with Antti Raanta sidelined by illness. Andersen stopped the final 18 shots he faced in Game 4
"He had to steady it," Brind'Amour said. "He looks like nothing bothers him. He looks like he's in a preseason game sometimes."
New Jersey used both Vitek Vanecek and Akira Schmid in goal in Game 4.
The most glaring problem for the Devils might have been their 26 giveaways compared to two for the Hurricanes
"It's simple as that," New Jersey coach Lindy Ruff said. "We had guys who just went rogue. You can call that lack of experience, even the power play turned into one man trying to do something and then the next man trying to do something."
If needed, Game 6 will be on Saturday afternoon in Newark, N.J.
--Field Level Media