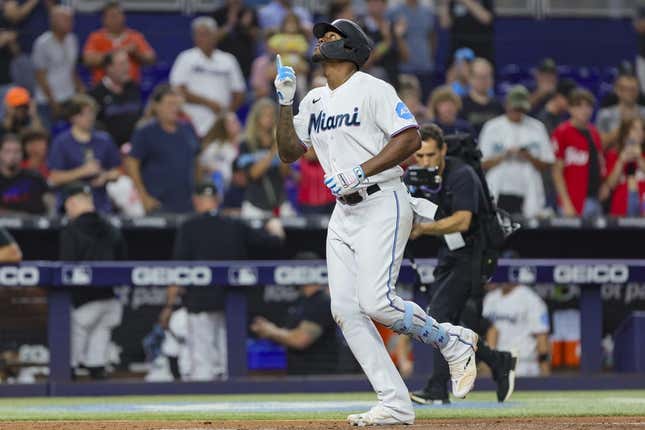 The Houston Astros will try to slow down Jorge Soler on Wednesday night when they face the host Miami Marlins in the rubber match of a three-game series.
How running an NFL team is like running a restaurant | Chef Emeril Lagasse
On Tuesday, Soler slugged his 30th homer of the season in Miami's 6-5 loss to the Astros, his fourth long ball in his past six games. He now has the most homers by a Marlins player since 2017, when Giancarlo Stanton and Marcell Ozuna went deep 59 and 37 times, respectively.
"I don't think it's his last (home run)," Marlins manager Skip Schumaker said. "I just feel like he's in a really good spot. He maybe hit a two-week period where he didn't hit for a little bit, but otherwise, he's been one of our best — if not the best hitter besides (Luis) Arraez — at the top. Super consistent.
"I think he's becoming a better hitter, too. It's not just a home run that we're looking for. ... I think he's becoming a complete hitter the way he's hitting to (the) opposite field, he's hitting pull, dead center. So I think he's more of a complete hitter than just a power hitter, and it's been great to watch."
Soler will look to provide some offense for left-hander Jesus Luzardo (8-7, 3.91 ERA), who will start for Miami on Wednesday. Veteran right-hander Justin Verlander (7-6, 3.19) gets the nod for Houston.
Luzardo is 1-1 with a 4.35 ERA in four career appearances (three starts) against Houston.
The Marlins are 15-9 this year when Luzardo starts, though he has lost his past two outings. Luzardo is 0-2 with an 11.42 ERA in August, but he has been strong at home in 2023, posting a 4-3 record with a 3.31 ERA.
Verlander is 1-0 with a 1.42 ERA in three career starts against the Marlins. He is 2-3 with a 4.11 ERA in eight road starts this season. since rejoining the Astros in an Aug. 1 trade with the New York Mets, the 40-year-old right-hander is 1-1 with a 3.46 ERA in two starts.
Astros star second baseman Jose Altuve might not play on Wednesday due to a left knee contusion. He sustained the injury after fouling a pitch off the knee during the first inning on Tuesday.
Altuve, who singled to complete the at-bat before exiting, is hitting .326 with nine home runs, 28 RBIs and a .971 on-base-plus-slugging percentage this season.
The Astros are 9-5 this month but just 3-3 in their past six games.
"We've been trying to get it clicking all year long," Houston manager Dusty Baker said. "It's going to click. It's just a matter of when. Sometimes, you've got to wait on it."
Miami is waiting to see cleaner play after a fifth-inning blunder proved costly on Tuesday. A collision between outfielders Jazz Chisholm Jr. and Bryan De La Cruz allowed Houston to tie the game 4-4 after the Marlins went into the inning with a two-run lead.
"I haven't been playing (much) all year," Chisholm said, "but the more games we play with each other, the more we will know how we go to the ball."
—Field Level Media