The season isn't even a month old, and Jose Bautista has already issued a season's worth of ownage to the Baltimore Orioles. Last week, he hit a homer right after being thrown at by Darren O'Day, and exacted revenge for a two-year-old slight in the process. Last night was more of the same, with Bautista mushing Jason Garcia's attempt at being intimidating in spectacular fashion.
In the seventh inning, with the Blue Jays up 11-4, Garcia figured it would be a good time to try and strike some fear into Bautista. He buzzed a fastball behind Bautista's shoulder, got a long stare down from the slugger, and then got his shit wrecked.
It's not in the video above, but Bautista took a looooooong look at Garcia before heading toward first base, and was talking shit as he rounded second base, which is great! Hitting a bomb right after a guy throws at you is just about the coolest thing a baseball player can do, and it should be accompanied by as much flexing as possible.
Naturally, getting repeatedly and thoroughly shat on by one player can start to wear on a team, which is probably why Adam Jones had some words for Bautista when the two crossed paths between innings.
G/O Media may get a commission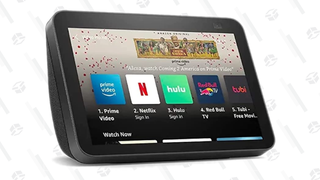 If Adam Jones has a problem with his team getting worked and shamed by Jose Bautista, he should probably just tell his pitchers to stop fucking with the slugger, because nobody in the league is better at getting retribution.