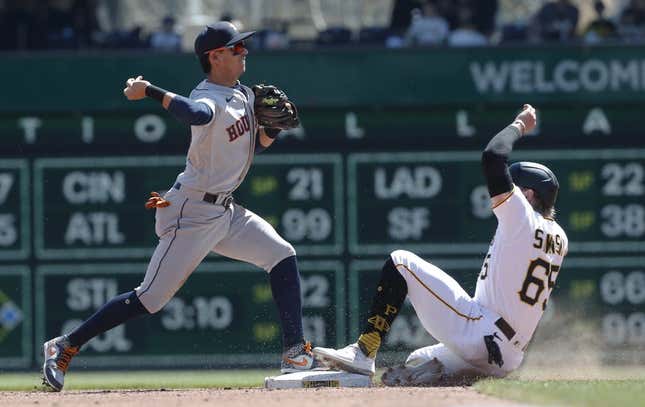 Jose Urquidy scattered two hits over six innings on Wednesday afternoon as the Houston Astros drubbed the host Pittsburgh Pirates 7-0 in the rubber match of the three-game series
'Soccer fandom is full of gatekeepers' says Ted Lasso actor Brendan Hunt
Urquidy (1-0) allowed three walks and struck out two for the Astros. Hector Neris pitched the seventh, Bryan Abreu the eighth and Ronel Blanco the ninth to complete the shutout
Alex Bregman belted a three-run homer, Corey Julks added a solo shot and Jose Abreu had an RBI double for Houston.
Pittsburgh starter Rich Hill (0-2) took the loss despite yielding just two runs on five hits to go along with two walks in six innings.
The Astros opened the scoring in the third inning. Chas McCormick singled up the middle, stole second and moved to third on Kyle Tucker's groundout. Jose Abreu followed with a double to left-center field to drive in McCormick
There was a delay after the third as home plate umpire Jerry Layne sought medical attention. He got hit with a foul ball, and his right index finger was severely swollen. Brock Ballou moved from first to home, and the game continued with three umpires.
Houston moved ahead 2-0 in the fourth inning after Julks belted his first big-league home run.
In the bottom of the fourth, Carlos Santana doubled to right-center field with one out for Pittsburgh's first hit off Urquidy. Ke'Bryan Hayes walked, and Santana went to third on a fielder's choice by Connor Joe, but Santana was stranded when Joe got caught in a rundown on a steal attempt.
Houston boosted its lead to 5-0 in the seventh inning after Yainer Diaz singled and McCormick walked before homered for the second straight game.
In the eighth, Julks doubled to the corner in left, advanced to third on Mauricio Dubon's base hit to center and scored on Diaz's sacrifice fly to left. McCormick singled to left and Bregman walked to load the bases. Dubon scored on Tucker's sacrifice fly to right for a 7-0 lead.
--Field Level Media