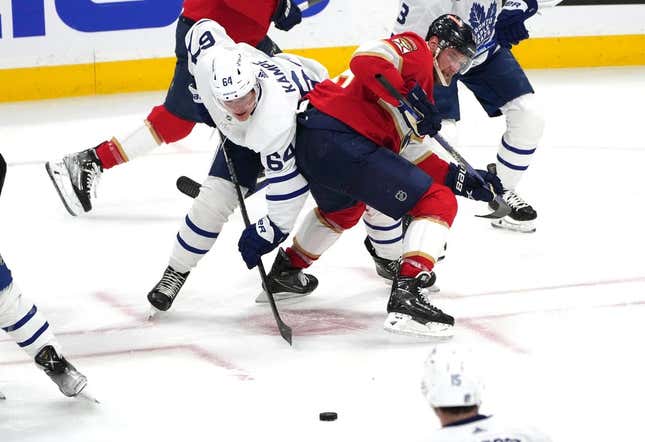 Rookie goalie Joseph Woll, making his career first playoff start, stopped 24 shots as the Toronto Maple Leafs stayed alive in their Eastern Conference semifinal series with a 2-1 win over the Florida Panthers on Wednesday night in Sunrise, Fla
Bass' ERA stinks, but not compared to who he is off the mound | Worst of the Week Countdown
Eighth-seeded Florida, which had its franchise-record, six-game playoff winning streak snapped, leads the series 3-1. Game 5 is set for Friday in Toronto.
William Nylander and Mitch Marner scored for Toronto. Both players entered Wednesday's game with no goals in the series. In the regular season, they combined to score 70 goals.
Woll replaced No. 1 starter Ilya Samsonov, who was injured in Game 3. Woll has 11 career regular-season starts, going 9-2 with a 2.38 goals-against average.
Panthers goalie Sergei Bobrovsky made 23 saves
But the Panthers, who are one win away from advancing to the Eastern Conference finals for the first time since 1996, could not get enough offense. Only Sam Reinhart scored for Florida
Toronto -- with some luck -- opened the scoring with 3:29 expired in the second period. Toronto's Michael Bunting dumped the puck in, but it hit the knee of an official and bounced right in front of the net, where Nylander lifted a backhander over Bobrovsky. Nylander's shot hit the crossbar and caromed in off the goaltender's back.
One of the hardest hits in the game came in the second period, as Florida's Radko Gudas knocked David Kampf to the ice along the boards. No penalty was called. Kampf left the game injured, but he returned in the third.
The Leafs extended their lead to 2-0 with 9:57 left in the third as Marner fired from the point, helped by a Ryan O'Reilly screen. Marner's shot went in under Bobrovsky's left arm.
With 8:50 left in the third, Florida's aggressive skating forced a Toronto penalty, as Alexander Kerfoot tripped Marc Staal.
Florida cashed in with 7:47 left when Reinhart took a centering pass from Matthew Tkachuk and got the puck to trickle between Woll's pads. Reinhart then dove to shove the puck the needed extra few inches, cutting Toronto's lead to 2-1.
Toronto immediately called a timeout to reset, and the Maple Leafs held on to remain in the series
--Field Level Media