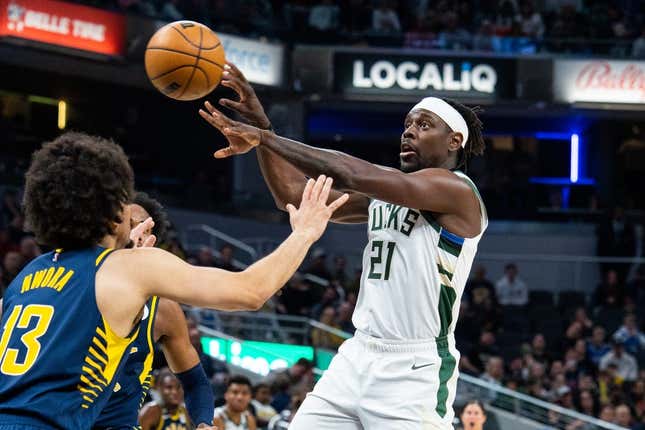 Jrue Holiday poured in a career-high 51 points and Giannis Antetokounmpo posted his fifth triple-double of the season to lead the Milwaukee Bucks to a 149-136 win over the Indiana Pacers on Wednesday night in Indianapolis
'Soccer fandom is full of gatekeepers' says Ted Lasso actor Brendan Hunt
Holiday became the sixth player in Bucks franchise history to record 50 points in a game. Antetokounmpo has also accomplished the feat, as has guard/forward Khris Middleton. Holiday went 20-for-30 from the field on Wednesday, also sinking 3 of 6 shot attempts from beyond the arc
In what was the fastest triple-double of his career, Antetokounmpo finished with 38 points, 17 rebounds and 12 assists for Milwaukee (55-21). Brook Lopez added 21 points and eight rebounds, while Bobby Portis had 12 points off the bench.
Indiana (33-44) was led by rookie Bennedict Mathurin, who supplied 29 points and nine rebounds. Aaron Nesmith chipped in 22 points, and five other Pacers scored in double figures, including former Bucks forward Jordan Nwora (18 points)
Wednesday's game was a back-and-forth offensive battle throughout the night, with Milwaukee leading by just four at the break, 73-69. Antetokounmpo was just one assist shy of a triple-double in the half while Holiday had the highest scoring half of his career with 27 points.
While the Pacers did score 17 points off of Bucks turnovers in the first half, Indiana's defense could not hold up. Milwaukee led 119-107 by the end of the third quarter and didn't look back despite allowing another high-scoring performance against an Indiana team without Tyrese Haliburton (ankle), Buddy Hield (non-COVID illness) and Myles Turner (ankle)
With the victory, Milwaukee took the season series 3-1. The Bucks also maintained their hold on the No. 1 seed in the Eastern Conference and sit three games above the Boston Celtics, who will pay a visit to Milwaukee on Thursday night for the tail end of the Bucks' back-to-back
--Field Level Media