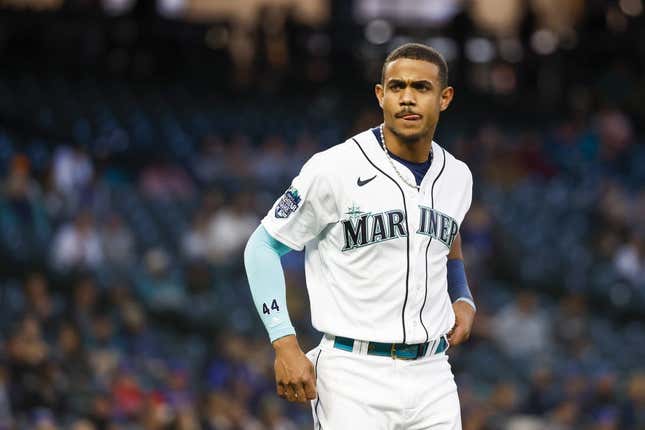 Once Julio Rodriguez starts hitting up to his ability, he inevitably will see his name higher on the lineup card. For now, Seattle Mariners manager Scott Servais is writing Rodriguez's name in the No. 6 spot
Can the Florida Panthers make a comeback? | Agree to Disagree
Last season's American League Rookie of the Year was dropped from his usual leadoff spot Wednesday as he tries to shake a season-long slump. He'll try to catch fire during the Mariners' nine-game road trip, which begins on Friday with a three-game weekend series against the Detroit Tigers
Rodriguez is batting a measly. 205 with six home runs and 15 RBIs. His on-base percentage is .270 and he's struck out 46 times in 35 games. Last season, Rodriguez had 28 homers, 75 RBIs, a .284 batting average and .345 on-base percentage.
During the first eight games this month, Rodriguez has three hits in 33 official at-bats.
"The numbers don't lie, they don't," Servais said. "Julio is chasing more of the pitches that are off the plate. It's why the walk rate is down. Julio is so gifted. He's putting those balls in play. I wish he'd swing and miss at 'those' pitches. That's what is leading to his struggles at times. It comes back to getting the ball over the middle of the plate."
Shortstop J.P. Crawford was inserted into the leadoff spot during Wednesday's 4-3 home loss to the Texas Rangers. Rodriguez had one single in four at-bats in his new spot in the order.
"I was on board with it," Rodriguez said. "Once we talked about it, I feel like I'm the type of guy -- I started hitting leadoff (last year) because it was the best thing for the team. And now if hitting sixth is the best thing for the team, that's where I'm going to be hitting at."
A hot-hitting Rodriguez would go a long way toward igniting a Seattle surge in the AL West. The Mariners currently are in fourth place in the division
Marco Gonzales (2-0, 4.70 ERA) will start the series opener on Friday.
Gonzales received a no-decision in his last start after allowing three runs and six hits in six innings against the Houston Astros. He's 2-3 with a 3.89 ERA in seven career starts against Detroit.
The Mariners will see a familiar face on the mound for the Tigers. Matthew Boyd (2-2, 5.28) appeared in 10 regular-season games with Seattle last season as a reliever. He'll be making his seventh start this season
Boyd pitched six innings -- his longest outing of the season -- at St. Louis last Friday. He limited the Cardinals to three runs and five hits and didn't issue a walk while recording six strikeouts.
He uses a four-pitch mix and it worked well in his most recent start.
"There's a value in being able to tailor a game plan to a specific team when you have four good weapons to use," he said. "I have three off-speed pitches that all work, that all have different purposes, all can attack hitters in different ways. I have that benefit."
Boyd is 2-1 with a 3.52 ERA in six career appearances (five starts) against the Mariners
The Tigers have won seven of their past nine games. They bounced back from a 2-0 loss to Cleveland on Tuesday in which they left 12 runners on base with a 5-0 victory over the Guardians on Wednesday
"We try not to harp on the past," center fielder Riley Greene said. "We just come in the next day ready to go."
--Field Level Media