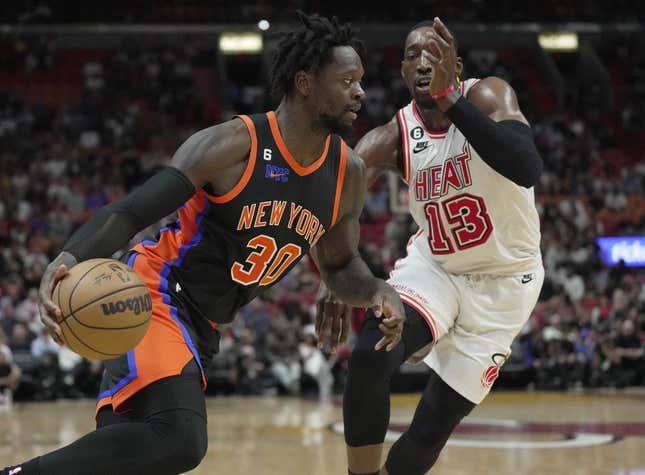 Julius Randle scored a game-high 43 points -- including a go-ahead, off-balance 3-pointer with 1.7 seconds left -- as the visiting New York Knicks won their eighth straight game, defeating the Miami Heat 122-120 on Friday night.
Minutes earlier, Randle put the Knicks up 119-116 with a three-point play with 56 seconds left, making a fade-away corner jumper while getting fouled by Bam Adebayo.
But Miami's Tyler Herro hit two free throws and then came up with a steal and a drive to give Miami a 120-119 lead with 23 seconds left, setting up Randle's heroics.
New York matched its longest win streak of the season, which ran from Dec. 4 to 20. This burst has coincided with the acquisition of key reserve Josh Hart.
Randle made 16-of-25 shots, including 8-of-13 on 3-pointers. He added nine rebounds.
Jimmy Butler scored 33 points to lead Miami, which has lost six of its past seven games. He hit 18-of-20 free throws, added eight rebounds and five assists, and made 7-of-15 shots from the floor.
Herro added 29 points for Miami.
Knicks point guard Jalen Brunson, the reigning Eastern Conference Player of the Month, had 25 points and a game-high eight assists. Immanuel Quickley scored 21 points off the bench for New York.
Heat point guard Kyle Lowry missed his 11th straight game due to a knee injury.
New York shot 63.2 percent, including 6-of-12 on 3-pointers, in a sizzling first quarter as the Knicks took a 37-31 lead. Randle was sensational in the period, scoring 20 points on 7-of-9 shooting, including 4-of-6 on 3-pointers.
The Knicks stretched their advantage to 71-56 at halftime. It was the second game in a row that Miami allowed 71 in the first half, matching what Philadelphia did on Wednesday.
Miami cranked up its defense in the third period, cutting its deficit to three points late in the period. But the Knicks rallied to close out the quarter with a 96-88 advantage.
Midway through the fourth quarter, Quickley scored eight straight Knicks points.
Late in the fourth, after Randle's final 3-pointer, Miami had one more chance, but Mitchell Robinson intercepted an in-bounds pass to end the game.
--Field Level Media