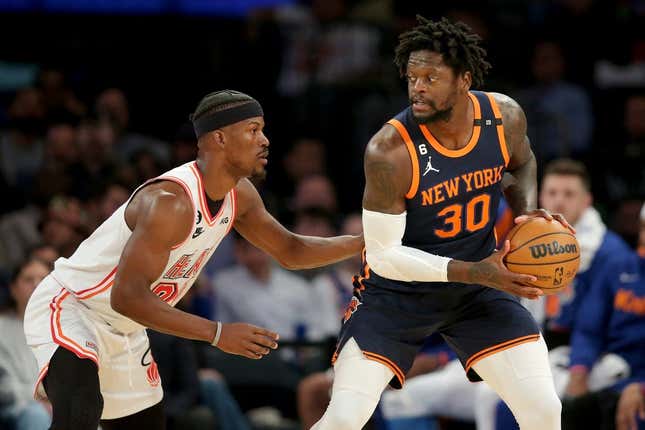 New York Knicks leading scorer Julius Randle will miss the rest of the regular season after spraining his left ankle against the Miami Heat on Wednesday night
Does Jimmy Butler have the best NBA Finals origin story? | Agree to Disagree
The team announced Thursday that Randle will be re-evaluated in two weeks, April 13. The season ends April 9. The first round of the NBA playoffs begins April 15.
Randle was injured in the second quarter of the Knicks' 101-92 win over the Heat. Randle, who hasn't missed a game this season, rolled his ankle while landing on Bam Adebayo's foot as Randle grabbed an offensive rebound
The team declared him out for the game at halftime.
The Knicks ended the night 44-33 and in fifth place in the Eastern Conference. They are guaranteed to finish with their best record in an 82-game season since going 54-28 in the 2012-13 season
Randle, an All-Star for the second time this season, leads the team in scoring (25.1 points per game) and rebounding (10.0 per game).
Randle scored three points and grabbed five rebounds in 15 minutes on Wednesday.
--Field Level Media