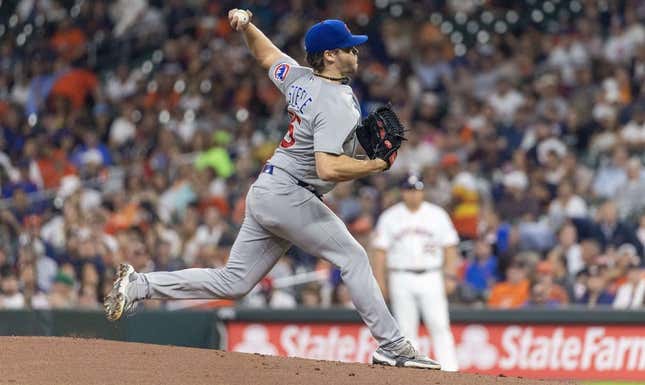 Following an exceptional start to the season, Justin Steele has come back down to earth for the Chicago Cubs
How running an NFL team is like running a restaurant | Chef Emeril Lagasse
Facing a host Philadelphia Phillies club eyeing another winning stretch might not make it any easier for the left-hander to get back on track in Sunday's decisive finale of a three-game set
Steele (6-1, 2.44 ERA) recorded 14 straight starts of allowing two or fewer earned runs, and had a 1.45 ERA through the first seven of 2023, before yielding three runs on seven hits in six innings of a 10-4 win over St. Louis on May 10. Then while dealing with flu-like symptoms, Steele followed by allowing a season-high five runs -- four in the fourth inning -- and five hits in gutting out six innings of Chicago's 7-3 loss at Houston on Tuesday.
"(The Astros) did a good job of punishing me when I left stuff over the plate," Steele said. "(But) I was happy with how I was able to settle down."
Steele allowed a Kyle Schwarber first-inning homer when he pitched against the Phillies on July 22, 2022. However, that was the only run he allowed through five innings during the Cubs' 15-2 road rout
That's Schwarber's only hit in five at-bats versus Steele, but the ex-Cub drilled a grand slam to highlight Philadelphia's six-run first inning en route to Saturday's 12-3 win that snapped a five-game skid.
The Phillies are 10-11 since April 26, beginning that stretch with a four-game winning streak, then six straight defeats, followed by five consecutive wins and those five losses in a row before Saturday
"A little skid there, but we were able to get back on the board," Schwarber, batting .176, told NBC Sports Philadelphia. "Good offensive approaches."
Phillies shortstop Trea Turner is 0-for-1 with a walk against Steele and is expected to be back in the lineup after getting the day off Saturday. Signed to an 11-year, $300 million deal, Turner went 0-for-4 in Friday's 10-1 loss to Chicago, is batting .257 with just four homers, has a .302 on-base percentage and has already committed six errors
"I think sometimes the offense goes to your defense, and it's just natural," Phillies manager Rob Thomson said. "But I think he's played OK.
Philadelphia, meanwhile, does not currently have a fifth starter after Bailey Falter was optioned to Triple-A earlier this week. Taijuan Walker (3-2, 6.53) is slated to start on short rest Sunday after allowing four runs, four hits and two walks on 40 pitches over two-thirds of an inning in Wednesday's 7-4 loss at San Francisco.
"I checked with the medical people, pitching (coaches), talked to Taijuan, and he's good to go for (Sunday)," Thomson said.
The right-hander has failed to complete five innings in five of his nine starts. He's 1-2 in four career starts against the Cubs, but has a 3.74 ERA in those games
Chicago's Trey Mancini is 3-for-5 with a double and a walk against Walker. Teammate Christopher Morel is 1-for-2 versus Walker. Morel is batting .381 (16-for-42) with 13 RBIs in 10 games, and hit two of his seven homers in this series, since making his 2023 debut.
The Cubs have lost 18 of 26 games and are 3-12 in their last 15 road games
--Field Level Media