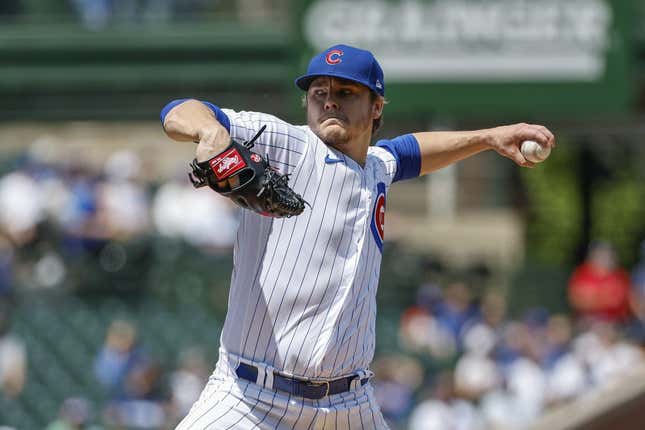 Justin Steele's current run of success for the Chicago Cubs has reached historic proportions
Can the Florida Panthers make a comeback? | Agree to Disagree
Jordan Montgomery has pitched well for the St. Louis Cardinals, even if he has little to show for his efforts. He's certainly shined against the Cubs
Highlighted by this quality pitching matchup, the Cardinals will look for a fourth straight win, and first series sweep of the season, on Wednesday night against the host Cubs
Though Steele (5-0, 1.45 ERA) made a name for himself with a 3.18 ERA in 2022 -- his first full season as a starter -- he's been one the majors' best in 2023. The left-hander leads the National League in ERA, and after allowing one run with six hits and no walks in seven innings of Friday's 4-1 home victory over Miami, he tied Jake Arrieta's Cubs' record of yielding two or fewer earned runs in 14 consecutive starts
Steele is 6-1 with a 1.24 ERA during those last 14 outings.
"He's been so consistent," Chicago manager David Ross said. "We've talked about it almost every start, just how great he's continued to pitch."
Looking to keep the Cubs from losing their fourth straight, and 10th in 13 games, Steele was tagged for three two-run homers over five innings agianst St. Louis in 2021, then allowed just one earned run over seven against the Cardinals last season. St. Louis star Paul Goldschmidt hit one of those homers, while he and Tommy Edman are a combined 6-for-12 against Steele
Goldschmidt is just 1-for-9 with four strikeouts through the first two games of this set, but St. Louis is in position for its first series sweep of 2023. Since losing eight straight, the Cardinals have won a season-high three games in a row
"This gives us a little confidence moving forward," Cardinals infielder Paul DeJong told Bally Sports Midwest. "We just got to play our game.
DeJong went 2-for-3 with a tie-breaking, ninth-inning homer and had another RBI during Tuesday's 6-4 win. DeJong is batting .350 this season.
Meanwhile, Montgomery (2-4, 3.29) has essentially had one poor outing in his seven starts -- allowing seven runs in four innings against Arizona on April 18. Since then, the left-hander has yielded three earned runs over 18 2/3 innings in three starts. However, the Cardinals totaled just four runs in those three, and 11 while losing Montgomery's last five outings
He allowed just a two-run homer among six hits and struck out six with a walk in six innings while not factoring in the decision of a 5-4 loss to Detroit on Friday.
Whether pitching for the Cardinals or New York Yankees, Montgomery has been stellar against Chicago, posting an 0.63 ERA while winning all four of his starts. Last season, between the Cards and Yankees, Montgomery threw 22 scoreless innings over three of those starts vs. Chicago. The highlight was a one-hitter at Wrigley Field during the Cardinals' 1-0 victory on Aug. 22
Christopher Morel's double was all the Cubs' managed against Montgomery in that contest. Morel homered in his season debut Tuesday
Chicago's Dansby Swanson had a two-run homer, two doubles and three RBIs on Tuesday and is batting .295 with seven RBIs in his last 10 games. He's 2-for-8 with a homer vs. Montgomery.
--Field Level Media