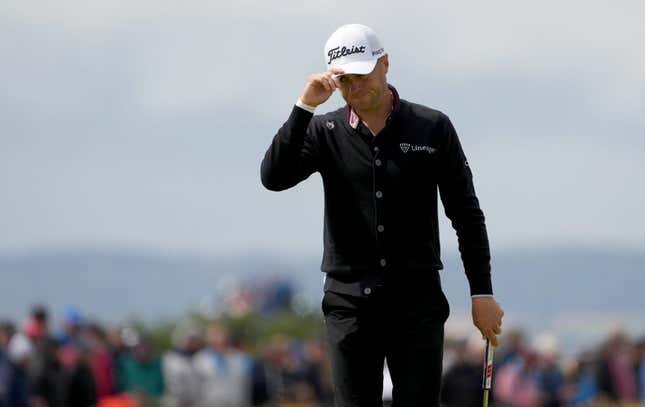 It's been a PGA Tour season to forget for Justin Thomas, but he views the next two weeks as an "unbelievable opportunity" to turn it around in a hurry.
How running an NFL team is like running a restaurant | Chef Emeril Lagasse
Faced with the possibility of missing both the FedEx Cup Playoffs and the United States Ryder Cup team, Thomas entered this week's 3M Open and next week's Wyndham Championship, the final two events of the PGA Tour's regular season.
The two-time major champion usually takes these weeks off because his standing for the FedEx Cup is already in a healthy spot. Not this year: After missing four cuts in his last six starts, Thomas is 75th in FedEx Cup points, and only the top 70 will qualify for the first playoff event.
So Thomas is in Blaine, Minn., this week to play the 3M Open for the first time. Then he will turn to Greensboro, N.C., for his first appearance at the Wyndham since 2016.
"I feel like I'm just right there to kind of like break it through a little inner confidence or mojo, if you will," Thomas said Tuesday. "I mean, I'm not going to get that at home sitting on the couch, so I need to -- personally feel like I just kind of need to play my way through it a little bit.
"... First off, this is an unbelievable opportunity for me, kind of behind the 8-ball and my end goal is to make the Tour Championship like it is every year. It's not like I'm just playing to try to get into the first playoffs event. I want to be in Atlanta and I'm going to have to get there somehow."
Thomas, 30, missed the cut at three of four majors this season, posting an 81 in the second round of the U.S. Open and an 82 in the first round of last week's Open Championship. The 30-year-old is choosing to be optimistic that those scores aren't indicative of serious problems with his game.
"I just kind of chalked it up as a fluke," Thomas said. "I made two doubles and a quad, right? That's literally middle school golf-type stuff. I'm way too good of a player to be doing stuff like that. I don't know if it's a lack of focus or discipline or whatever."
Yet Thomas, whose last win came at the 2022 PGA Championship, has discussed his rough patch with friends in the sport who have gone through similar slow periods -- names like Tiger Woods, Jordan Spieth and Rickie Fowler.
"I've asked them questions, I've talked to them about it," Thomas said. "But I -- look, you never want to compare, and I don't want to say anything that makes what they went through better or worse than it was.
"I'm not in that position yet. I shouldn't say 'yet.' I don't plan to be. I'm top-20 whatever player in the world and I won a major championship just a little over a year ago. I feel fine. I mean, I'm still doing a lot of things well."
Thomas wasn't asked about the upcoming Ryder Cup on Tuesday, but after he missed the cut at Royal Liverpool Golf Club he admitted he was "obviously" worried about missing the team of 12 Americans who will go to Rome in September.
"I want to make the Ryder Cup more than anything," he said then. "I'm probably honestly trying too hard to do it."
Thomas, who played in the past two Ryder Cups, is No. 14 in the American Ryder Cup qualifying standings. The top six will make the team automatically, and captain Zach Johnson will add six captain's picks.
Thomas has to compete with the likes of Max Homa (No. 7 in points), Jordan Spieth (No. 9) Keegan Bradley (No. 10), Collin Morikawa (No. 11), Rickie Fowler (No. 12) and Tony Finau (No. 19) for Johnson's approval.
--Field Level Media